What is AdWare
AdWare (Advertising SoftWare) is a software designed primarily to show advertisement and bring revenue to its developers. It causes the advertising links or banners to appear in different places: in the program's window, on the desktop or in the browser. Very often AdWare programs are completely useless. They pretend that they fulfill a definite function but it exists purely for disguising a real purpose – showing Ads. There also exist some useful applications. But they are classified as AdWare too because they either show ads by themselves or conduce the emerging of ads on computer.
Today the bulk of AdWare programs tries to install their extensions for the browsers:

As a result third-party ads are injected into every web page and merge with the site content. It affects the browser response time and makes computer work slowly. Besides that Pop-Up banners interfere with reading the site.
The typical AdWare is:
istartsurf;
ads by sense;
shopper pro.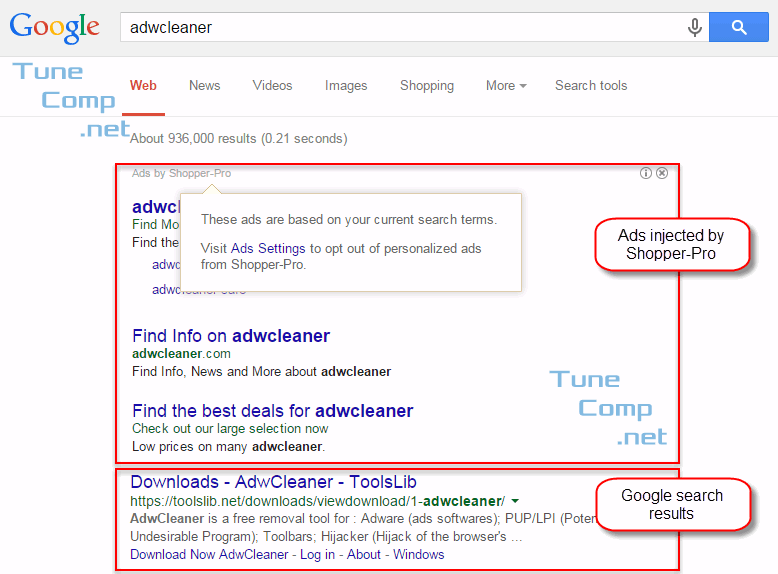 Adware removal tools
There exist several utilities for AdWare detection and removal. The most effective are:
Ad blockers and illegal (third-party) ads
Inexperienced users often try to block the illegal ads using ad blockers. It is a big mistake. In fact it turns out that one extension is adding advertising banners to the browser while another one is blocking them. Ultimately there is really no Ads in the browser but your system still works slowly. The unwanted extensions should be deleted from the browser.
Deceptive programs: fake ad blocker, optimizer, booster, etc
Fake utilities, malicious extensions and rogue programs are widely spread today. You can encounter the following of them.
Fake adblock extension
It does not remove banners. On the contrary: it can cause the display of ads (e.g. fake "AdBlock Plus")
Fake utility: optimizer, booster, accelerator, downloader, etc
Such software is usually being positioned as a magic tool created to speed up your PC and make it fast like a rocket. In fact the fake optimizer serves to mislead user: suggest downloading another "magic" tool, search for "updates" (malware in reality) and so on. Ultimately it downloads a number of other malicious software and makes your computer slow as hell.
Useless Shopping Apps and Browser Extensions
There also exist so called 'shopping helpers' – apps or extensions that promise you to find the best prices on the Internet. In fact they are designed just to inject ads into your browser and earn money from your purchases.
Fake antivirus
It can simulate the detection of malware, the malware removal process and demand to purchase a 'full version' of the program to complete the 'virus cleaning'. Besides that the fake antivirus can download and install a great variety of spyware and ransomware to the system. In spite of the fact that this kind of malware is closer to Rogueware, it often causes the emerging of ads.
Please, read our guide on how to remove adware.