The problem: Windows 10 works slowly on Virtualbox virtual machine, while Windows 7 is fast and snappy. You may see similar situations on the Internet forums. People often ask "Why is my Windows 10 so slow on virtualbox VM? I have Core i7, 16 GB of RAM, I assigned 4 cores of CPU and 4 GB of RAM to the virtual machine but the CPU usage is 100% all the time! Svchost.exe process is loading CPU to 100%"  Let us see what are the possible reasons of low performance and how to speed up Windows 10 on virtual machine. 
Update Virtualbox to the latest version
Do not forget that a lot of bugs can be fixed in new version. Especially when it deals with the fresh version of Windows (Windows 10 for now). For example a lot of users were experiencing the problem of 100% CPU load by svchost.exe process on Windows 10 guest OS lately. This issue disappeared after updating Virtualbox to the version 5.0.16 r105871:

Update 2019! Virtualbox version 6.0 works with Windows 10 much better. The only condition is to have a modern platform. On my Z390 AORUS PRO with Core i7 9700K it works just fine whereas the same VBox version on my old PC with Core2Quad Q9500 works slow as hell.
Use optimal (or default) settings for virtual machine
Often users tweak settings of virtual machine believing that they boost performance. But in fact ignorant tweaking can reduce performance. In this case you can see svchost.exe loads the CPU to 100% and very slow response of GUI.
Tip 1: Turn off your virtual machine. Go to its Settings and try to change the quantity of processors. Note that the performance can decrease if you assign all physical cores to the virtual machine. So assigning 2 cores of 4 available is usually the best variant.
Tip 2: Try to set all values to their defaults for Windows 10 guest operation system:
If you are unsure whether this or that option was enabled or disabled by default you can create a new virtual machine for the same guest OS and see the default parameters. Then just delete the new machine when you don't need it.
In most cases would be optimal to use default settings. Do not change default settings of the virtual machine unless you are 100% sure what you are doing!
Turn Off Windows Defender
In most cases people use Virtual Machines to develop software, to test operating systems and so on. If you are not using VM for surfing you can disable protection. It would save CPU resources greatly especially when it is about Windows 10 on Virtualbox.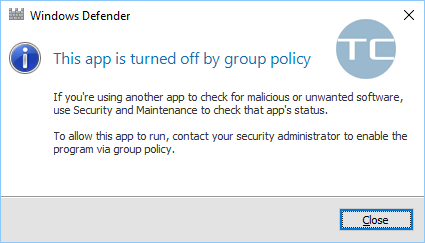 Enable virtualization technology
If you have the virtualization technology setting in your BIOS / UEFI enable it:
Use fixed disk size
When setting up a new virtual machine you can choose between dynamically allocated and fixed size disk types. A dynamically allocated disk can save disk space of your drive but it takes more time for Virtualbox to write to. A fixed-size disk uses all allocated space immediately, takes longer to create but works faster. We recommend to use fixed-size disk to speed up Windows 10 on Virtualbox: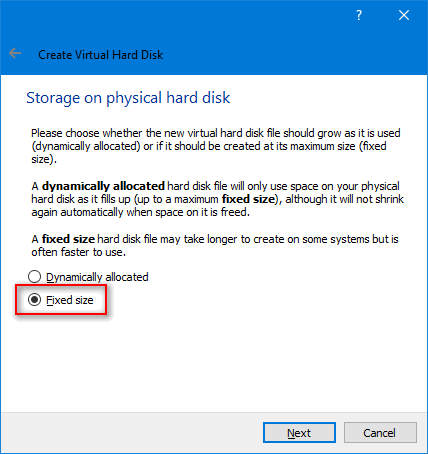 Install Virtualbox Guest additions
Guest Additions is the driver pack for virtual machine. It serves to improve performance of the guest OS. Please don't forget to install it. You can do it at any time. Just click on Devices → Insert Guest Additions CD Image and launch VBoxWindowsAdditions.exe:
Move virtual disk file to SSD
Windows 10 is designed to be installed on SSD drive. So if you use Windows 10 on virtualbox VM you should place the virtual disk file on your fastest drive. If you have already installed Windows 10 you can move the file to another physical disk of the host system.
Extra steps to speed up Windows 10 on Virtualbox
1) Check virtual machine for malware using AdwCleaner and MBAM and remove all found items.
2) Reset the network interface settings using NetAdapter Repair: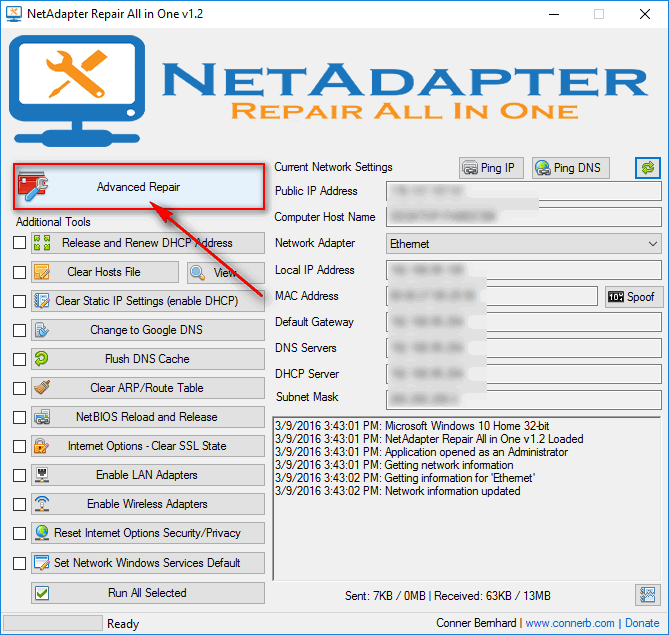 3) Turn off the visual effects you don't need in the guest OS:
The Conclusion
As you might understand the hardware of your host machine matters. If you upgrade to the latest platform and import your existing virtual machines you may find it work much faster on the same version of Virtualbox.
I appreciate your feedback very much. Please, find a minute to share your experience in the comments. Don't forget to mention your hardware and Virtualbox version. Thank you in advance!