What is NetAdapter Repair All in One?
It is a very useful utility designed to fix the majority of problems related to Windows networking. With the help of this utility you can fix such problems on your Windows PC as release/renew the current IP address, clear the Windows Hosts file, switch your network adapter to automatic IP obtaining, clear ARP/Route table, flush DNS cache, and much more.
Yes, it is possible to do all these steps without any programs, but if you are a beginner, you just won't know how and where to do it. That's why we often recommend NetAdapter Repair utility to people who are not a tech savvy.
It is also highly important to mention that such actions are often required when you are in the process of removing malware traces on your PC.
When do I need to use it?
NetAdapter Repair utility is very useful when you need to fix problems caused by the malware activity (after you have removed the malware):
change harmful DNS servers to the correct ones;
clear the traces of malware from the hosts file;
delete malicious routes, etc.
Download
Download the utility from the official website: https://sourceforge.net/projects/netadapter/
How to fix network with NetAdapter Repair
The utility does not need to be installed. Launch NetAdapter Repair as administrator:

The number of features can be subdivided into two groups:
Simple recovery;
Advanced repair that requires restart.
Simple operations
If you need to reset the hosts file, flush dns cache, clear route table:
1. First select all operations you wish to perform.
2. Then press Run all selected:
Advanced Network repair
This mode does the following:
1. WinSock / TCP IP Repair.
2. Clear all Proxy / VPN Settings.
3. Windows Firewall Repair.
All you need to perform tha advanced Repair is to press corresponding button and click OK: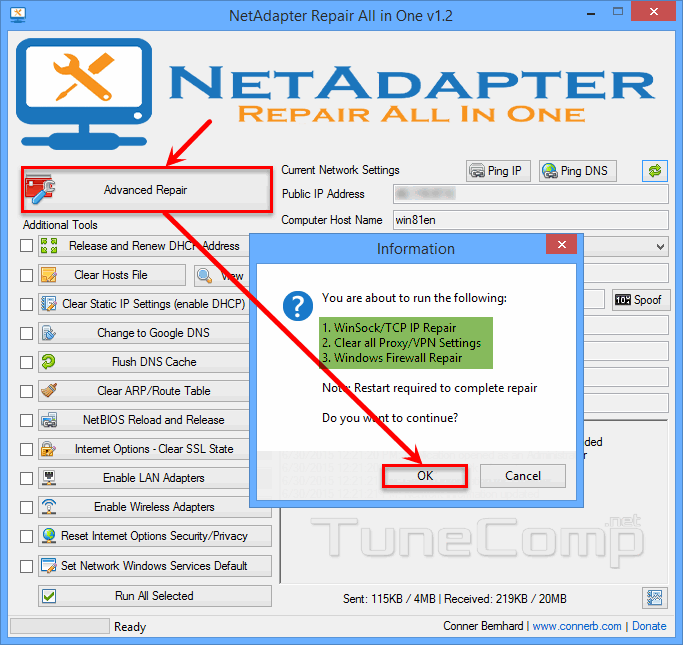 The procedure will take about 20 to 30 seconds. After that the system will be restarted to completely reset the network adapter:
The NetAdapter Repair utility will help you fix many of the most common problems with the network on Windows PC.