What is NetAdapter Repair All in One?
It is a very useful utility designed to fix the majority of problems related to Windows networking. 

When do I need to use it?
NetAdapter Repair utility is very useful when you need to fix problems caused by the malware activity (after you have removed the malware):
change harmful DNS servers to the correct ones;
clear the traces of malware from the hosts file;

delete malicious routes, etc.
Download NetAdapter Repair
Download the utility from the official website: //sourceforge.net/projects/netadapter/
How to fix network with NetAdapter Repair
The utility does not need to be installed. Launch NetAdapter Repair as administrator:

The number of features can be subdivided into two groups:
Simple recovery;
Advanced repair that requires restart.
Simple operations
If you need to reset the hosts file, flush dns cache, clear route table:
1. First select all operations you wish to perform.
2. Then press Run all selected:
Advanced Network repair
This mode does the following:
1. WinSock / TCP IP Repair.
2. Clear all Proxy / VPN Settings.
3. Windows Firewall Repair.
All you need to perform tha advanced Repair is to press corresponding button and click OK: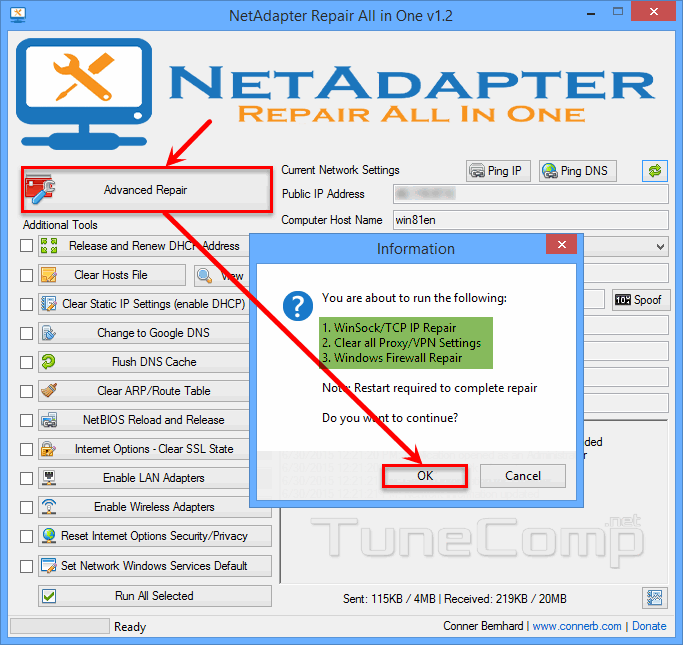 The procedure will take about 20 to 30 seconds. After that the system will be restarted to completely reset the network adapter:
The NetAdapter Repair utility will help you fix many of the most common problems with the network.