Windows 10 is a rather successful operating system. Since the release in August 2015 it has received a tonne of updates and patches claimed to improve stability and decrease vulnerability. It should be said that Windows 10 is one of the most stable working systems ever produced by Microsoft. But nevertheless it is able to glitch and work unstable from time to time due to various reasons. And in most cases it is quite difficult to find out what exactly makes your Windows 10 freeze when it freezes randomly – without any obvious reasons. In this guide we will talk about possible reasons that are able to make Windows 10 freeze randomly, how to troubleshoot and fix the issues in Windows 10. Let us make your PC work stable again. Before you begin ensure to backup all your important data (photos, documents, etc) from a problem computer.
Common Reasons Why Windows 10 Freezes Randomly
malware and viruses;
software issues;
faulty drivers;
damaged hardware;
lack of free space on the system drive;
dust and overheat;
glitches and errors of Windows 10 OS.
How to Fix Random Freezes of Windows 10
We recommend that you try the solutions in the order they are mentioned in this article, because they are sorted in a special way starting with the most frequent and easy-to-fix and ending with more rare and complicated. If the option doesn't fix freezings of Windows 10 proceed to the next one.
Remove malware and viruses
Malware, viruses and trojans are capable to make Windows 10 freeze from time to time. In our days malware and adware is everywhere. That's why you should check your PC for infection. Use MalwareBytes, AdwCleaner and Zemana AntiMalware to remove malware from your PC. We recommend that you use all of these three but not choose one.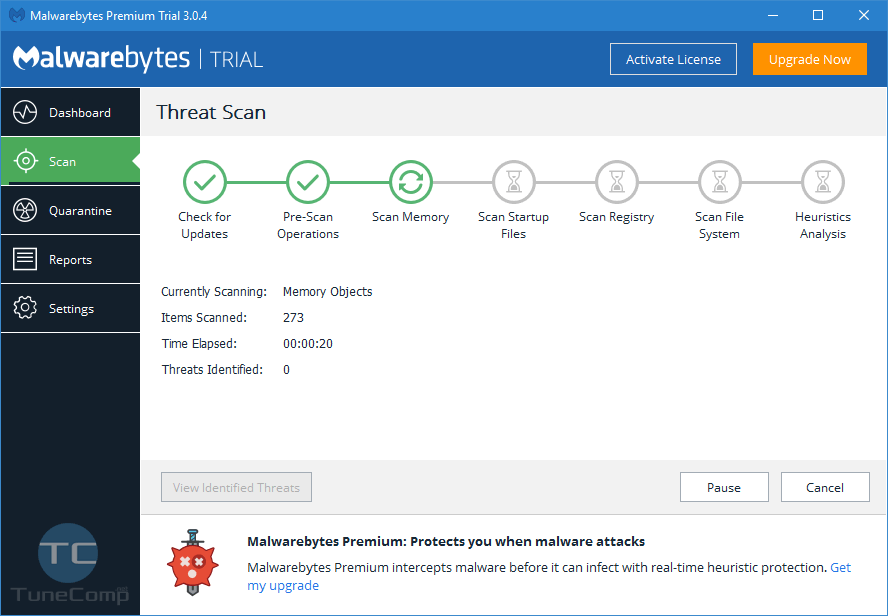 Software-related issues
Third-party software can also make Windows 10 freeze randomly. Go to Apps & Features, sort all installed software by date. Try uninstalling the lately installed software: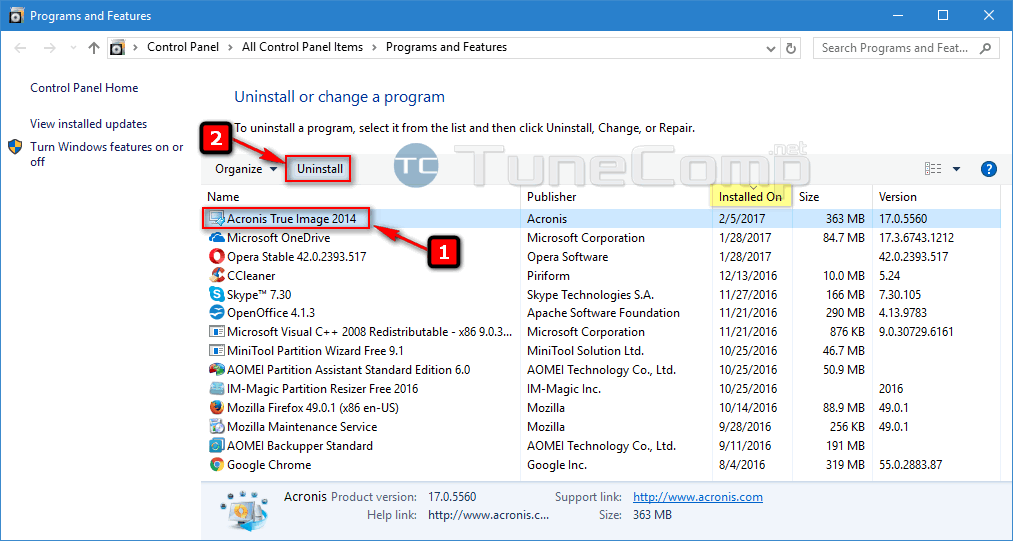 The important point is that any program can damage Windows 10 and lead to freezings, spontaneous reboots or BSODs. And it doesn't mean that the program that caused it is bad or malicious! It can be just an unstable version or an old version not actually compatible with Windows 10 for 100%, or there can be a glitch during the upgrade process from Windows 7 or Windows 8.1. 
Install the latest drivers
Very often incorrect or non-native drivers can cause Windows freezings and even Bluescreen (BSOD). Thus, please check if you have the native drivers installed but not compatible ones.
Visit websites of your hardware vendors. Download the latest drivers and related software for your exact PC model for current OS and install them. Pay attention to what you are downloading. Do not forget that the same PC or laptop model can have a variety of modifications with different hardware! If your currently installed OS is not mentioned in the list of supported OS, try to update drivers from Microsoft update server. But keep in mind that drivers installed by Windows 10 itself are not always suitable for your current hardware. That's why you should install drivers from the official website if they are available.
First try the latest version. If you believe it has problems revert to the previous version. Also try installing another version of driver.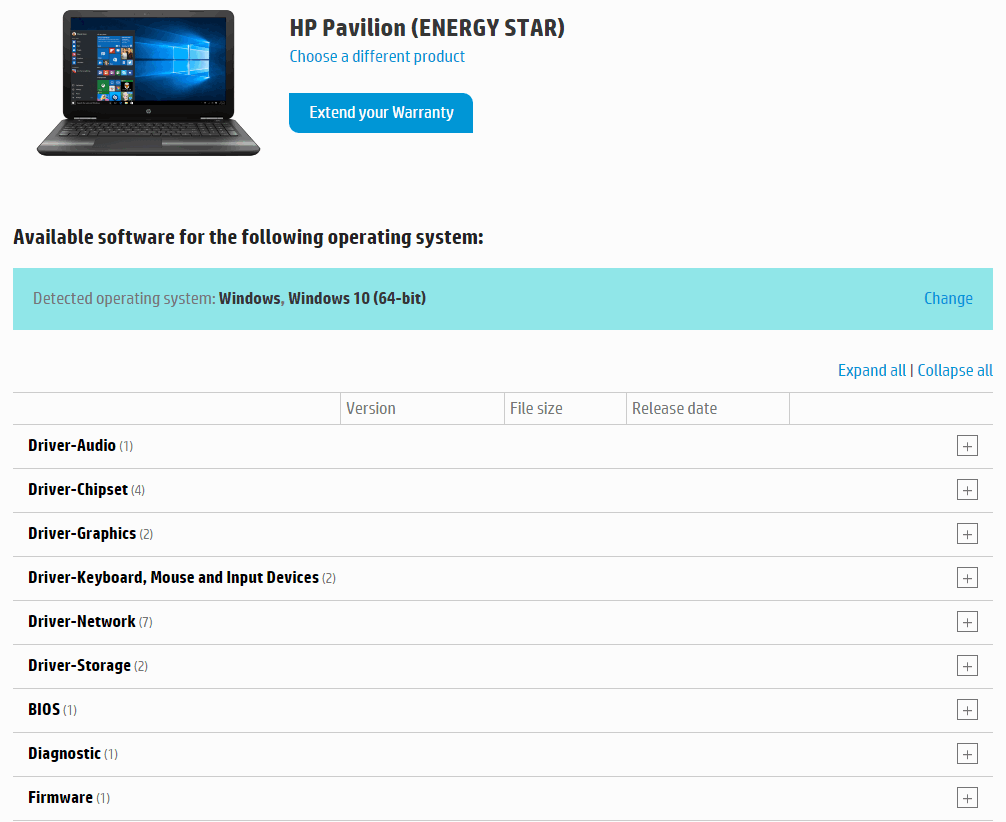 Make sure there is enough diskspace on your system drive
Windows 10 can randomly freeze, glitch or just slow down because of a lack of a free disk space on the system drive. All those new versions of programs, all those Windows updates and browser caches take so much disk space. So you need to have at least 20 GB of free space to be sure your PC will boot successfully the next time: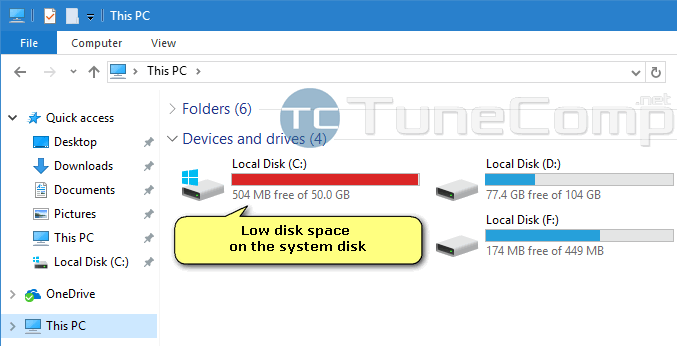 So if you have run out of space:
Clean your disk using CCleaner. This will delete browser caches and OS temporary, junk and obsolete files.
Move large files from your disk C to another drive (if you have such).
If you still have very little space on your system disk, resize your partition by taking space from another one or add another drive, etc.
Test your RAM modules
Though RAM errors often result in BSOD or spontaneous reboots, we nevertheless recommend to test RAM modules using Memtest+ utility. Wait until it makes 20-30 pass loops in the utility because not all errors can be diagnosed in 1 pass.
Test your HDD
Use special utilities like MHDD or HDAT2 to test your hard disk for hardware issues such as bad sectors: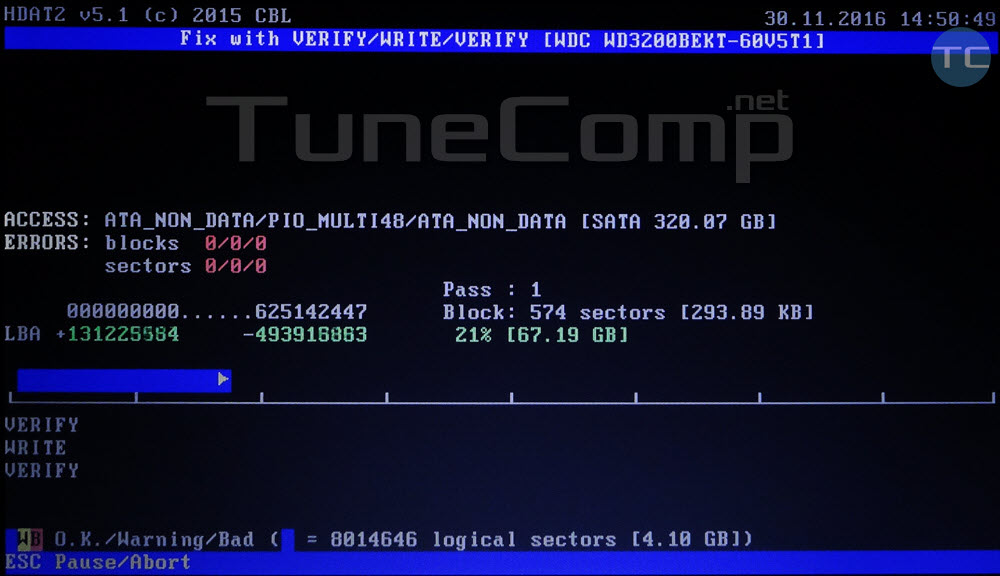 Check the temperature and clean the dust out of your PC
Use utilities like AIDA64 or HWMonitor to check current temperature of your system components like CPU, Chipsets, Graphics cards, etc.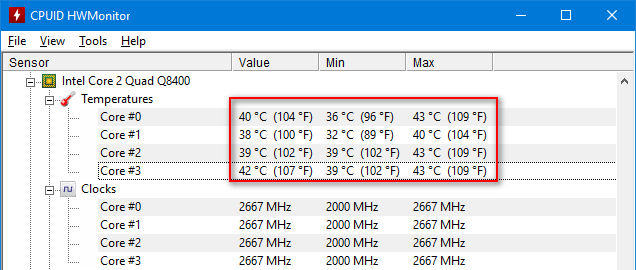 If you see that the temperature is too high clean your PC and replace the thermal grease! It is also advised to change the thermal grease on CPU, GPU and Chipsets at least once in 5 years.
Restore your system
If you have previously created restore points you may try to restore system to the previous state:
If you have images previously created by a third-party program such as AOMEI Partition Backupper, restore Windows 10 using the respective program: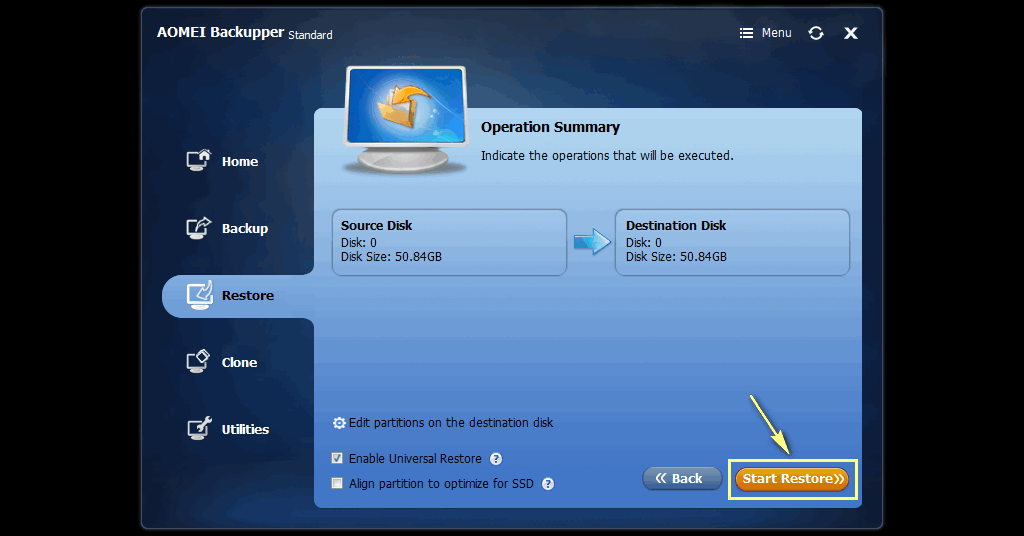 Reset Windows 10
If you've done all the troubleshooting but your Windows 10 still doesn't work properly and freezes from time to time the last hope is to reset Windows 10. We must mention that severe malware infections may damage your system so that your Windows 10 won't be able to work stable even after you totally cured it. That's why you may inevitably need to reset your PC to fix the OS and make your PC workstable again.

Before you reset your PC we strongly recommend that you visit the official website of your hardware vendor and downloaded all drivers for Windows 10. You may store them to your USB stick to be safe.