Here is the guide on how to block all incoming phone calls from numbers that are not in your contacts on Android phone: stock Android, Huawei, Xiaomi, Meizu.
It's quite simple to block a single caller on Android but what to do if you are attacked by a squall of calls from different strange phone numbers? Of course, you may ban them one by one but you will continue to receive unwanted calls from yet a new number each time.
In this case the white-list technology will help you out. You need to block all stranger (callers whose numbers are not added to your contacts) but let all your contacts easily reach you.
In this article we will explain how to block strangers using the built-in phone apps and do the same using third-party call managers.
In such a way you will be able to block phone calls from spammers, scammers, annoying telemarketers by activating a single option on your phone. The steps are different depending on your phone model.
Related:My Communication Etiquette or How I Hate to Be Contacted
[Contents] How to Block Incoming Calls from Strangers – Phone Numbers That Are Not in Contacts:
Stock Android
Launch the Phone app:
Tap the three-dot menu icon at the top right corner to access the Settings of the Phone app:
Now select Blocked numbers:
And here tell the Google phone app to block strangers by activating the Numbers not in contacts option: Update 2020: Unfortunately, Google removed this option for some reason.
Block Calls from Strangers on Huawei Phones
EMUI 10 and EMUI 9
Open the Phone / Contacts App.
Tap the three-dot icon on the upper right.
Select Blocked:
Dive into Call block rules:
If your phone is running EMUI 10, enable the Block Unknown numbers option:


Block calls from strangers on Huawei phones with EMUI 10.1

if your device has EMUI 9, enable the Block strangers option:

Block calls from non-contacts in EMUI 9.1
EMUI 8
In EMUI 8 steps are a bit different:
Open the Phone app:
Tap the three-dot icon and select Blocked:
Tap on Block rules at the very bottom of the screen:
Tap on Call block rules:
And here you can finally activate the Block all strangers option:
Xiaomi
Sad News for MIUI 12 Users
Since MIUI 12 doesn't have Xiaomi dialer app any more (now it comes with the Phone app by Google pre-installed), you can't block calls from strangers, unless you install some third-party application. Only MIUI 12 ROMs for China have Xiaomi's dialer app.
MIUI 11
Launch the dialer.
Tap the sandwich icon on the lower left:
Select Settings:
Here dive into Blocklist:
Tap Call Blocklist:
And finally enable the Block Calls from Strangers option:


Block calls from anybody who is not in your contacts (MIUI 11 and 10)
MIUI 9
Open the Phone app:
Tap on the hamburger (menu) icon on the bottom left:
Now make sure you have the Blocklist enabled (toggle it on if not).
Then head to Call blocklist:
And here toggle on the option called Block calls from strangers:
Block Calls from Strangers on a Meizu Phone(Flyme 7 & 8)
Open the Phone app:
Tap on the three-dot icon on the upper right corner of your screen and select Settings:
Select Blocklist:
Tap the gear icon on the upper right:
Select Call filtering:
And finally toggle on the Block calls from strangers option:
Third-party Apps (Samsung Galaxy)
As you might know, neither Samsung Galaxy nor OnePlus devices don't have the ability to block numbers of strangers in their built-in native dialers. For such unique phones and tablets the only option is to use a third-party call managing app. We can suggest the Call Blocker by Vlad Lee that can be easily found in the Google Play Store.
All you need to do is:
Install the app.
Launch it.
Give it all required permissions.
Go to the Blocking tab.
Make sure the Blocking itself is toggled on.
Activate the Unknown numbers (Block all numbers except contacts) option: Once you've configured the app, all calls from strange numbers will be rejected.
According to user feedback as of May 2020, this app doesn't cope with call filtering on OnePlus devices. We'd appreciate if you gave us your feedback concerning the issue in the comments.
What About Text Messages from Non-Contacts?
Very simple, but it is necessary to mention. If your phone has a feature to filter calls from strangers, it usually has the same options for text messages:
Some phones support blocking texts by keyword: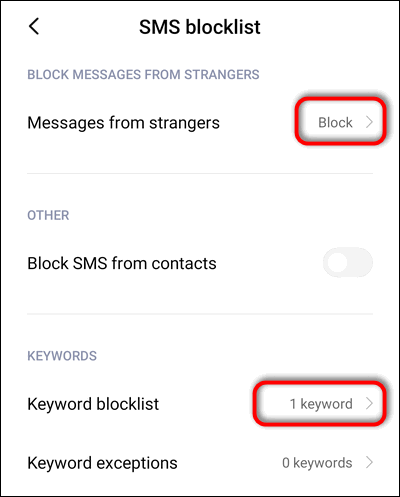 But here it is worth being more careful. The fact is that if you block text messages from unfamiliar senders, you run the risk of missing, say, a verification code from Google or another service and you will not be able to log in or confirm some important action. These are just a couple of examples. There are others.
Therefore, when it comes to text messages, it is best to block individual senders, and not filter out all SMS from unfamiliar numbers. As you might already know from another guide, if you blocked a specific phone number in your phone app, text messages will be also blocked.
Wrapping Up
Hopefully, now you know how to get rid of annoying calls from scammers, spammers, telemarketers and other unwanted strangers on your smartphone. If you have more information regarding the topic of blocking calls from non-contacts on Android, feel free to share it in the comments. Good luck!