You can use a block list feature if you want to block unwanted calls and text messages from a specific caller on Android. Today we will show how to add a phone number to the black list on Google Pixel under Android 8 or 7. Also read about how to review your blocked numbers list and unblock a certain caller.
After you blocked someone on your Google Pixel you won't receive neither a sound nor even a blink of your display when the blocked subscriber tries to call you or send a text. You won't see missed calls on your "Call history" list. You won't see texts from banned numbers in your Messages app either. All calls from the blocked phone number will be rejected – the caller will hear the "busy" tone.

How to block a phone number on Google Pixel under Android 8 or 7
Tap the Phone app: 
Go to "Call History" (a.k.a. Recents).
Tap on the phone number you would like to block calls and text from.
Select "Block/report spam": 
Tap on "Block": 
How to review the block list on Google Pixel
Open the Phone app.
Tap on the menu icon at the top right corner: 
Select "Settings": 
Tap on "Call Blocking":  Here you can see all blocked numbers: 
How to unblock a number on Google Pixel
This is even easier. And you have two ways to do it.
Method 1
Go to block list (described above) and remove number: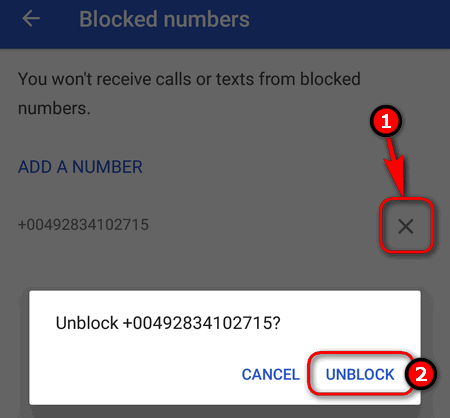 Method 2
Go to the recent calls, tap on the blocked number (if it is still there) and tap "Unblock":