Have you ever asked yourself "How can I block calls from people that are not in my iPhone's contacts?" The conversation topic is very interesting, especially today, when there are more and more unwanted calls every day.
Some time ago we already wrote a comprehensive tutorial on filtering incoming calls on Android. Now it's time to explain how to block calls from strangers on iPhone with the latest version of iOS.
Note that in this guide you will find a lot of fresh and useful tips related to blocking incoming calls including voice calls from unknown people in WhatsApp and Telegram messengers. We took all our iPhones, did a lot of experiments and wrote this guide based on the results.
All screenshots taken on iOS 13.5 but all information is correct for iOS 14 as well. Looking ahead, we hasten to say that iPhone handles privacy much better that Android when it comes to rejecting and filtering incoming calls.
Whitelisting Helps When Blacklisting is Not Enough
Everybody knows that iPhone allows to block an individual caller. It is blacklisting and means that we agree to receive calls from everyone except a few individuals.
But what to do if you are under attack of a whole bunch of strangers with various phone numbers? I promise, that you will get sick and tired of blocking yet another unknown number each time and receiving another ring from a different stranger number in a minute.
In this case we already need whitelisting — block everybody except your contacts or even a smaller group we want to communicate with, such as co-workers, family, close friends or favorite contacts.

Silence Unknown Callers— The Best Way to Block Calls from Strangers and No Caller ID on iPhone
This feature was introduced in iOS 13 and is actually the best one-tap solution to block all calls from numbers that are not saved to your contacts including anonymous callers which are displayed on the iPhone's screen as "No Caller ID" or "Unknown".
Go to "Settings", scroll down and select "Phone", scroll down to the bottom and enable the feature: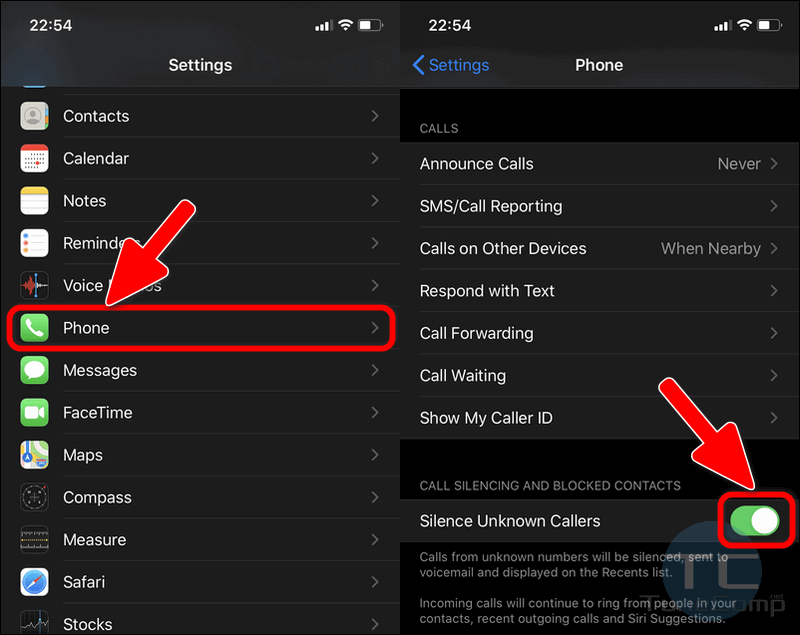 That is all you need to do to block everybody except your contacts.
However, you should remember that in such a way you can miss a really important call from somebody whose number is not saved to your contacts yet. So, here are some tips:
do not forget to add important people to your contact list otherwise their calls will be rejected or sent to your voice mail;
check the missed tab in the "Recents" log of your Phone app once a day;
check your voice mail from time to time.
Do Not Disturb — Yet Another Method to Block Calls from Non-Contacts
I have been using the DND mode for several years on my iPhone until Apple rolled out the Silence Unknown callers feature, which I actually wrote about in the previous paragraph.
The Do Not Disturb (DND) mode is a great thing! You can customize it to your taste and make it perfectly cope with filtering out unnecessary calls.
If you want to block calls from strangers, all you need to do is properly configure the DND settings. Here you can easily tell your iPhone reject all calls except contacts or even everything except favorites.
Also, you can create a separate group in the Contacts app – for example, "family", "colleagues", and cut off all calls except friends and colleagues.
Go to "Settings", select "Do Not Disturb"
To begin with, toggle on the feature.
Then, you may want to disable the "Scheduled" option and select "Always" to make filter work 24/7 regardless of whether or not the phone is locked.
The main setting to select: allow calls from Contacts.
Disable the Repeated Calls option because it will let persistent callers to go through the filter.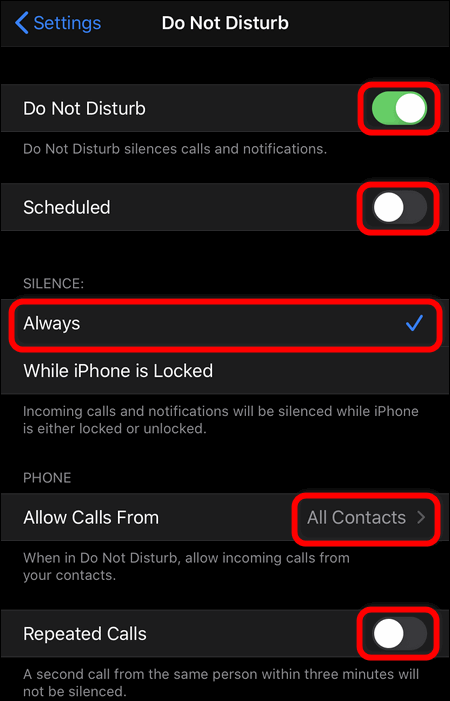 Done! No more calls from strangers on your iPhone!
The main difference between DND in iOS and its analogue on Android is that iPhones immediately reject all filtered calls so that your line is not engaged while Android phones just don't ring keeping an unwanted call on line and draining the battery.
Don't Forget to Delete Unwanted Callers from Your Contacts!
If you want to get rid of unwanted calls and you opted to block all calls except from contacts, it's logical to finally delete unwanted people from your contacts.
Being in Contacts or Recents, select the one you want to delete;
tap "Edit" in the upper right;
scroll down and tap "Delete Contact"
confirm the action: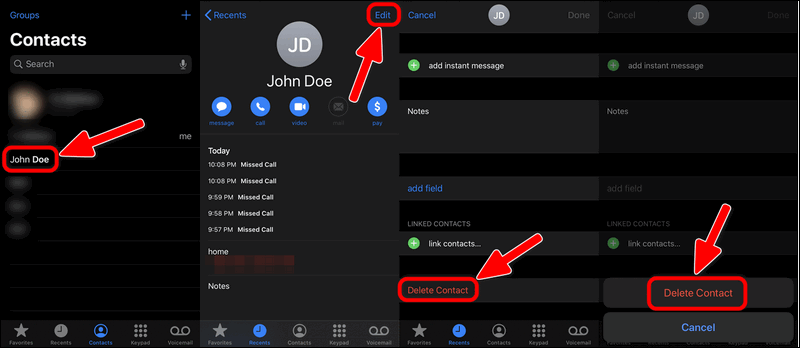 Video Guide: Two Methods to Block Calls from Non-Contacts on iPhone
How to Block Unwanted Calls in Messengers: WhatsApp, Telegram, etc
So, we figured out how to filter calls over cellular. But, since we do not live in 2005, but in the era of fast Internet and VoIP, now we also need to deal with blocking calls from strangers in third-party apps.
I remember an extremely curious question my aunt asked me some years ago: If I block them in Phone / Contacts, will they be able to reach me over WhatsApp, Telegram or any other messenger that I have installed? Do I need to block the same person in each app?
The answer is ambiguous: in some messengers — yes, in others — no. Now we'll explain everything. Here are a lot of peculiarities that need to be explained in relation to each individual messenger app.
WhatsApp
Unfortunately, this popular messenger lacks the ability restrict voice calls to friends or contacts only. All you can do is to block each individual user.
But as we said, iPhone handles privacy better than Android and in iOS you at least don't need to block every number in WhatsApp if it is already in the iPhone's blocked contacts list. Here is how it works.
If you blocked someone in such native apps as Phone, Messages or Facetime, they won't be able to call you via WhatsApp either. Your iPhone will immediately reject such calls. But note that they will still be able to send you WhatsApp messages.
However, if you block someone on WhatsApp, they won't be auto added to the "blocked contacts" list in the native phone app and still will be able to call you on mobile.
By the way, in this case WhatsApp voice calls won't be rejected but only silenced and the caller will hear long tones as if you just don't answer the call.
Long story short, the main thing you should know: it's best to use iPhone's Do Not Disturb to block WhatsApp voice calls from unknown people.
Telegram — Not a Problem to Block Calls from Strangers
In Telegram things are different. Here you can decide who will be able to reach you and who won't. You just need to edit your privacy rules in the app, which are very flexible. We advise you to do the following:
Go to "Settings"
select "Privacy and security"
tap "Voice Calls"
opt to receive calls from "My Contacts"
If you recently deleted someone unwanted from your contacts and your Telegram is enabled to sync contacts, you may need to following steps to prevent that unwanted person from reaching you:
Go to "Settings" > "Privacy and Security" page again;
scroll down and tap on "Data Settings"; 
tap on "Delete synced contacts";
confirm by tapping "Delete";
(optional) toggle back on the sync if you need it. 
Once you've done this, only your contacts will be able to call you over Telegram while all strangers will be unable to.
Here is what the stranger will see when they try to call you over the Telegram again: "Unable to call" (in iOS) or "Failed to connect" (on Android):
Related: How to Hide Your Phone Number in Telegram (Disappear from Anyone's Contacts)
Will "Silence Unknown Callers" Block Calls from Strangers in Messengers?
No. The Silence unknown callers option won't block any calls on WhatsApp. This feature deals with the cellular calls only.
Will DND Mode Block Voice Calls in WhatsApp, Telegram, etc?
Yes! It will reject all calls in WhatsApp, Telegram, Viber, Signal, Line (and some other messengers) according to your current DND configuration. If you opt to allow calls from Contacts, that should work for VoIP calls as well.
My Choice — the Most Secure Config
Here is my config to block calls from strangers (non-contacts).
I use iPhone 11 Pro as my primary phone because it handles call filtering better than any Android phone. It rejects unwanted calls even in DND mode.
I have the Silence Unknown Callers feature permanently activate because I'm not going to waste my time on answering calls from telemarketers, spammers and scammers.
When I'm very busy (for instance, on a meeting) I activate DND in addition to the "Silence Unknown Callers" feature to reject all calls except my co-workers.
Telegram is my only messaging app because it is more secure and its privacy settings are flexible enough. Here I opt to receive calls from my contacts and hide my phone number.
Summary
The "Silence unknown callers" feature is a great thing letting you reject cellular calls from strangers on your iPhone.
But unfortunately it won't block voice calls in third-party messaging app. Thus, you have to block intrusive callers personally in all messengers as well as in the native phone app.
Do Not Disturb is another useful feature that also helps a lot especially when it comes to restricting incoming voice calls in third-party messengers on Apple devices. You need to configure it once and it will work forever.
Telegram is the most secure messenger app where you have a full control of who you wish to communicate with and whom you want to block. You can block calls from people who are not in your contacts in a few taps of your finger.
If Telegram is the only messenger on your iPhone, voice spam will never bother you. We wish, every app had the same privacy options when it comes to hiding your phone number and restricting voice calls.
Conclusion
Well, now you hopefully have an idea of how the filtering of incoming calls on an iPhone occurs thanks to this detailed article.
If you have any questions, clarifications or additions based on your own observations, feel free to write a comment!
Guys, we spent a lot of hours making all those experiments with call filtering in iPhone's native apps as well as third-party messengers on iOS.
So we'd appreciate so much if you drop a comment below and tell us whether or not it helped you block unwanted calls on your iPhone. Thank you in advance! Stay private and secure!
Related: My Communication Etiquette or How I Hate to Be Contacted