100% disk usage is a rather widespread issue on Windows 10. It slows your PC down to a crawl. High disk utilization can be caused by various reasons. In some cases 100% usage can be normal (for example after installing updates or during video rendering), in other – it can be a consequence of an issue.
It can take up to 20 minutes to boot and when the desktop finally loads up the disk is constantly running at 99-100% and never dropping down. This means it is unreal to work on such PC. High disk utilization problem can also appear on other versions of Windows as well. Here are various solutions that will help you to fix 100% disk usage in Windows 10.
Reasons of high disk usage in Windows 10
Malware and viruses.
Windows updates. High disk utilization can occur not only during the updates installation but after as well.
Improper page file configuration.
Hardware issue. Bad sectors on hard drive or other problems.
Buggy software and conflict between different programs.
Serious damage of system files.
Old PC.
How to find out what is causing a high disk usage in Windows 10
Try to understand what exactly is using the disk resources.
Launch the Task Manager.
On the Processes tab you can see the Disk usage.
Click on Disk one or two times to sort processes by descending. You will be able to see what processes are causing the load on your disk:
How to fix 100% disk usage in Windows 10
We recommend the following solutions to fix high disk usage. If the one doesn't work proceed to the next method.
1. Remove malware and unwanted program
Unwanted programs launching on startup and running in the background can produce 100% disk usage on any system, even modern and powerful one. Scan your system with Anti-Malware and AdwCleaner and remove all found items: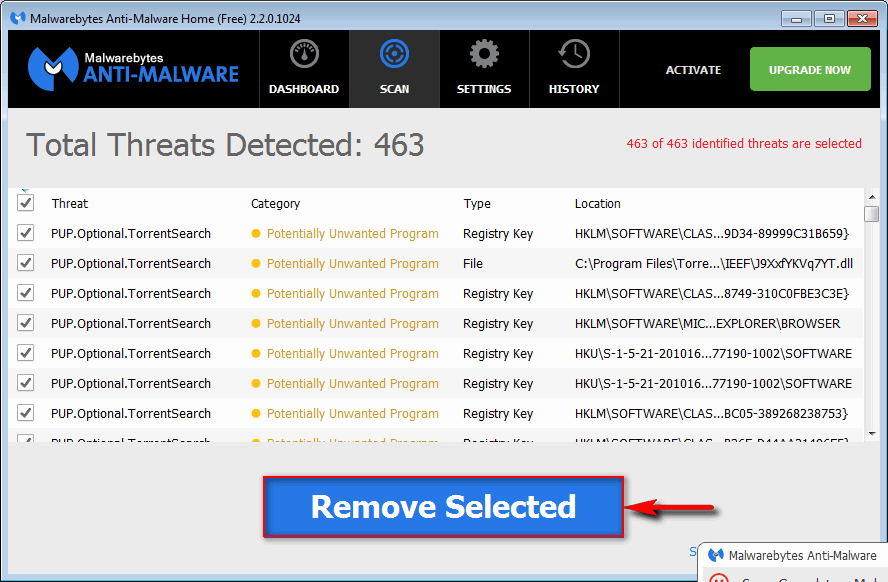 2. Antivirus can be the cause of 100% disk usage
Do not install more than one protection. Exception is embedded Windows Defender that will turn off automatically as soon as you install third-party Antivirus.
Turn off scheduled scans.
Try disabling your Antivirus.
Try to uninstall Antivirus program. Sometimes anti-virus programs burden disk a lot. Watch in the Task Manager how strong is your disk load. In our case Bitdefender was the cause of the permanent 100% disk utilization on Windows 10.
Disable Windows Defender, reboot, install your former Antivirus and watch how is your disk doing.
3. Configure your Page File
Go to Page File settings.
Unset the checkbox Automatically.
Set minimum size at your RAM amount.
Set maximum size at your double RAM amount.
Click

Set

.
Click OK.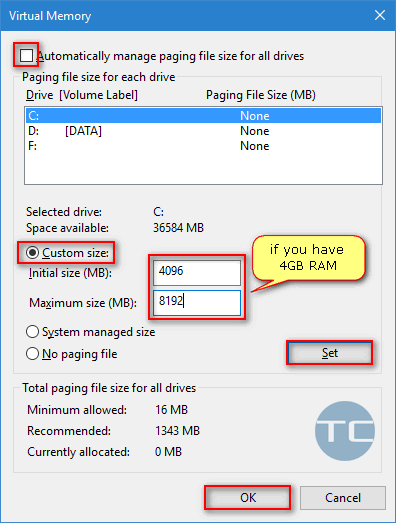 For example, if you have 4 GB of RAM set min 4096 and max 8192:
4. Software related gliches
On forums folks often report a rather strange issue related to Skype and Google Chrome. The solution is to configure conflicting programs.
Disable prediction service in Chrome:
Click the menu icon.
Select

Settings

:
Click on the Show advanced settings link:
Unset the checkbox

Use a prediction service to load pages more quickly

:
Give write previleges to skype.exe:
Exit the Skype app.
Go to its system folder,
Right-click

skype.exe

:
Go to Security tab and click

Edit

:

Give writing privileges to

ALL APPLICATION PACKAGES

:
Click OK in two dialogue windows.
5. Disable MSI (Microsoft official solution)
Microsoft recommends to fix the issue related to AHCI driver (StorAHCI.sys) by disabling MSI for the controller in the registry. If you are using StorAHCI.sys, you are advised to navigate to:
HKEY_LOCAL_MACHINE\System\CurrentControlSet\Enum\PCI\ <Your AHCI Controller>\Device Parameters\Interrupt Management\MessageSignaledInterruptProperties
and change the value of the MSISupported key from 1 to 0.
Read their full step-by-step guide on Microsoft website https://support.microsoft.com/en-gb/kb/3083595#mt1
6. Install updates
Go to Settings > Update & Security and click Check for updates.
After installing updates TiWorker.exe may produce high disk utilization. Read our article about TiWorker.exe module that is able to cause a high disk or CPU usage in Windows 10.
7. Update drivers
Sometimes the issue of high disk usage can emerge because of non-native but standard (simplified) drivers that Windows 10 downloads by itself. We strongly recommend that you visit your hardware vendor's website. Download all the latest drivers designed for Windows 10 and install them.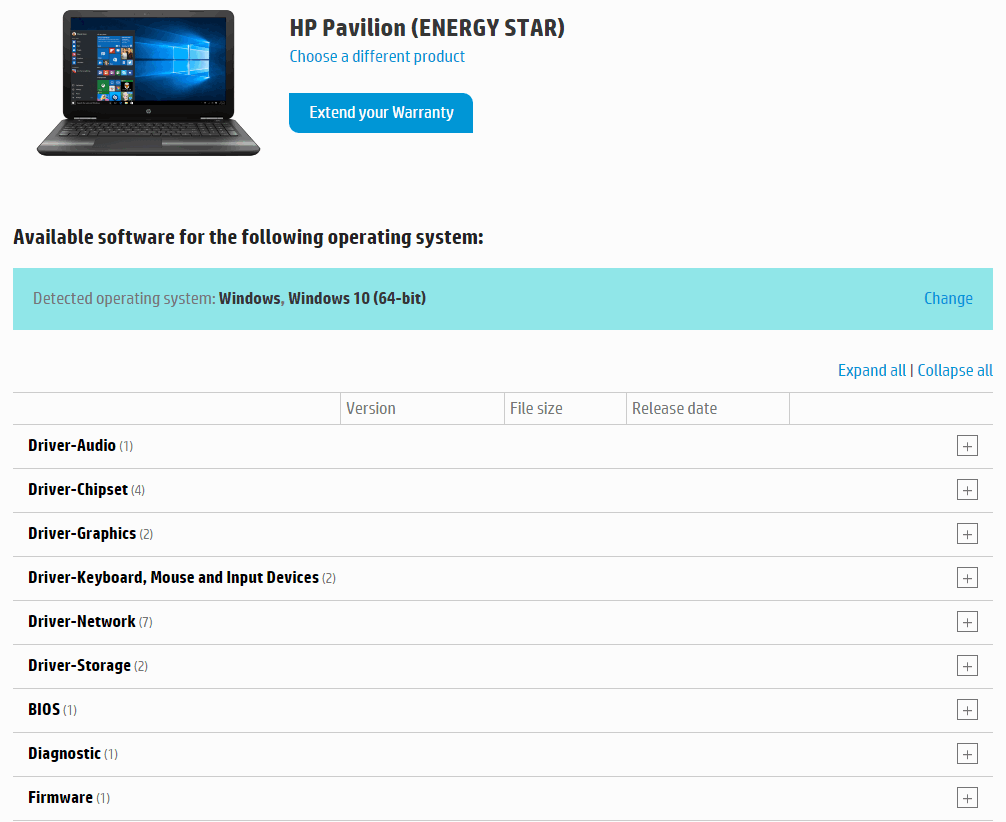 8. Disable Flash in Chrome
Open Google Chrome.
Type chrome://plugins in the address bar and hit Enter.
Disable

Adobe Flash Player

: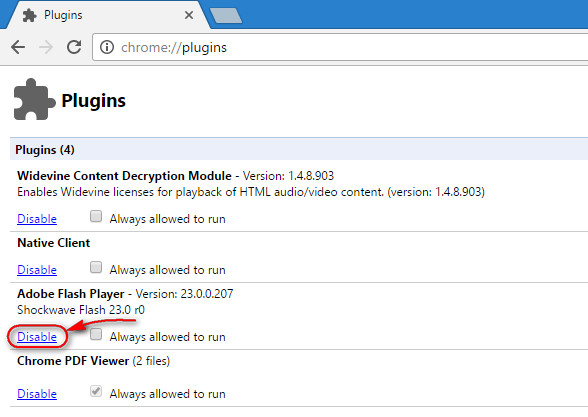 9. Check system files
Press

Win+X

.
Select

Command Prompt (Admin)

.
Type sfc /scannow and hit

Enter

:
This will check system files integrity and restore them if necessary.
10. Check disks for errors
Launch Command Prompt as admin.
Type chkdsk C: /f /r
Hit

Enter

:
If you see "Cannot lock current drive", type Y, hit Enter and reboot to check your disk and repair errors:
11. Check your Hard drive for integrity
Use special utilities like HDAT2 or MHDD to test your hard drive for integrity and try to fix bad sectors if any detected.
12. Replace SATA cable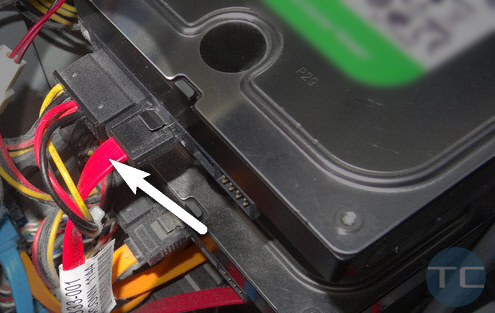 If you are experiencing the issue on a desktop workstation, ensure that SATA cable is okay and try replacing it with a brand new one. In very rare cases damaged cable can cause an unexplainable disk utilization.
13. Reset Windows 10 to get rid of 100% disk usage
In some cases when your system files are seriously damaged (after virus infection or faulty software) only Windows reset can help to fix 100% disk usage. Use it if you've tried all other solution but nothing helped you.
Read our full guide about How to reset Windows 10.
14. Hardware upgrade
Windows 10 installed on an old PC with a hard disk drive (HDD) can easily cause 100% disk usage at any time. The disk may be busy for a long time and your PC's response will be very slow. It is important to understand that Windows 10 is designed to be installed on SSD only (you can use HDDs in your system but not for placing your Windows 10 installation). If you experience high disk usage even after you reinstalled Windows 10 from a scratch, so there can't be any malware, installed all native drivers and all available updates, consider upgrading your hardware.
Some dubious solutions and workarounds to fix 100% disk usage
These are more like workarounds rather than complete solutions. So they are not recommended except for temporary use.
Disable Windows Search, Superfetch and BITS Services
Press

Win+R

.
Type services.msc.
Hit

Enter

:
Double click on the service.
Click Stop.
In startup type select

Disabled

.
Click OK:
Turn off Tips about Windows
It is difficult to say why but users tell in some cases this affects disk utilization greatly.
Launch Settings.
Head to System.
Then to

Notifications and Actions

.
Turn off

Get tips, tricks, and suggestions as you use Windows

:
If you have your own solutions, please, tell us about them in the comments.