Settings is a new interface that is about to replace the old Control Panel in the nearest future. In this article we will collect all possible methods to open Settings in Windows 10 – from easy to complicated ones. In different situations you may need to use one of them. 
1. Open Settings from Taskbar (available since Anniversary Update)
Right-click the Taskbar and select Settings:
2. Open Settings from Start menu
Click on the Start.
Select Settings: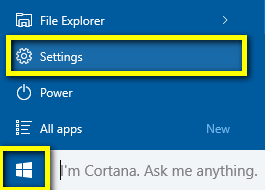 3. Launch Settings app using Win+I hot key
4. From Action Center
Click on Action Center icon.
Click on All settings quick action button:
5. Access Windows 10 Settings from This PC
Click on File.
Click Open Settings:
6. Open a definite setting app directly using Run command.
You actions should be like the following:
Press Win+R,
Type for example ms-settings:windowsupdate to go directly to the Updates Center.