The Settings app is a new interface that is about to replace the old Control Panel in Windows 10 in the nearest future (we hope, that by 2030 this will happen). In this article we collected all possible methods to open Windows 10 Settings – from easy to complicated ones. In different situations you may need to use one of them.
1. The Best Way to Open Windows 10 Settings Like a Pro: Use Win+I Key Combination
2. From Taskbar (available since Anniversary Update)
Right-click the Taskbar and select Settings:
3 From Start menu
Click on the Start.
Select Settings: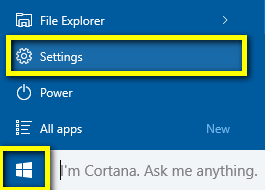 4. From Action Center
Click on Action Center icon.
Click on All settings quick action button:
5. From This PC
Click on File.
Click Open Settings:
6. Open a definite setting app directly using the Run Dialogue
You actions should be like the following:
Press Win+R,
Type for example ms-settings:windowsupdate to go directly to the Updates Center.
Was this useful? Tell us in the comments!