Wi-Fi Sharing is a nice feature you can find in Mobile Hotspot settings on Samsung Galaxy devices
As we wrote in one of our previous articles, mobile hotspot makes your Android phone work as a wireless router. In this mode mobile data interface works as WAN and Wi-Fi as LAN respectively.
But Samsung added a nice expansion feature to Mobile Hotspot mode in their flagship Galaxy devices — it is called Wi-Fi sharing.
How it Works
It works as follows. In the case if one of the wireless networks (which your phone was previously connected to) is detected, your S9/S9+ will propose to redistribute its Internet connection instead of wasting its cellular data.
In such a way your Galaxy phone can connect to your home wireless network and connect up to ten devices via its own hotspot.
Wi-Fi Sharing Explained in Detail
Thus, we can say that Wi-Fi sharing is a feature that allows wireless clients to connect to your home or office hotspot using an intermediate (so to say "proxy") Galaxy device without sharing the Wireless password of your wireless router to the client devices of mobile hotspot.
The intermediate Android device works as a router between your home or office wireless network and the client devices of its mobile hotspot.
Here is an example.
We have Galaxy S9 connected to our office hotspot using its password which is known only to office workers.
Then, we set up a mobile hotspot on our Galaxy S9, so client devices can connect to our hotspot using another (its own) password. In such a way, we can connect client devices to the Internet via the cellular data.
But as soon as we activate Wi-Fi sharing toggle we can make the clients of S9's network connect to the Wi-Fi hotspot of our office.
Not the Same as Wireless Repeater / Range Extender!
Wi-Fi Sharing is not the same as Wi-Fi repeater (Range Extender) mode on your wireless router or access point.
Wireless Repeater mode means extending the coverage of a particular wireless network with the same SSID, password and channel.
In the case with Wi-Fi sharing – you have two different networks.
How to Use Wi-Fi Sharing on Galaxy S10, S9, S8, Note, etc
Head to Settings → Connections → Mobile Hotspot and Tethering → Mobile Hotspot. Here you need to turn on both toggles: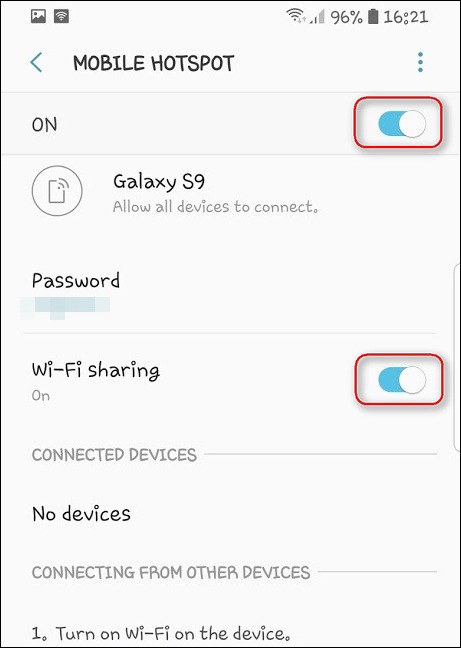 As soon as your phone detects a known wireless network you will see the message: An available Wi-Fi network has been detected. Connect to use Wi-Fi sharing instead of mobile data for your Mobile hotspot.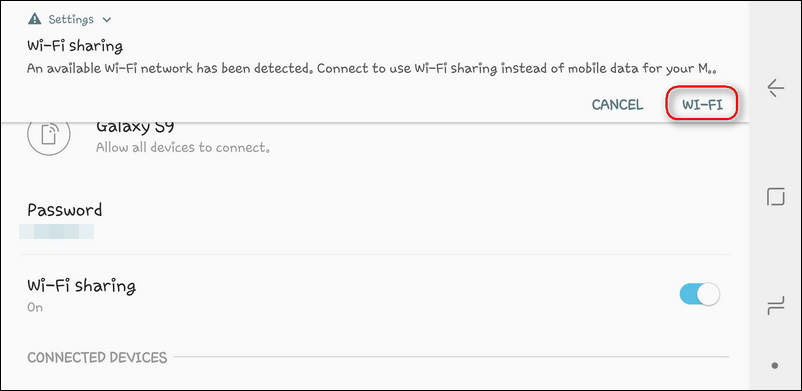 All you need to do to use Wi-Fi sharing is turn on Wi-Fi: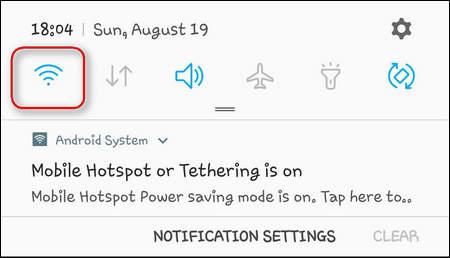 Be advised that once you've activated Wi-Fi sharing, your Galaxy phone will be able to switch between any known wireless networks that are currently in the range.
Consequently, the clients of your Galaxy's hotspot will be able to use the Internet connection of your home router, your friend's hotspot and even any public AP like Starbucks or McDonald's which your Galaxy will get connected to.
If you want to prevent your Galaxy phone from connecting to certain wireless networks, you can go to Settings → Connection → Wi-Fi → tap the menu icon → select Advanced → Manage Networks and "Forget" all undesired hotspots among known ones: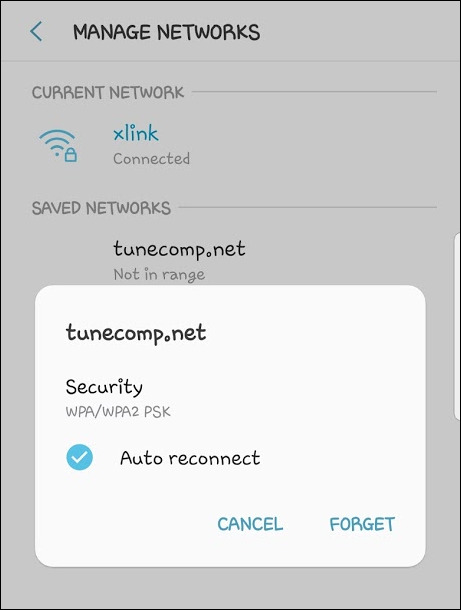 How to Use Wi-Fi Sharing on Galaxy S20 (One UI 2.0, Android 10)
In One UI 2.0 things have changed a bit. Follow the steps to activate it on your Galaxy S20, S10, etc:
Go to Mobile Hotspot settings (long tap on the corresponding quick toggle or navigate to Settings > Connections > Mobile Hotspot and Tethering and tap on the Mobile hotspot):
Turn the hotspot on.
Tap the three dots in the upper right corner of the screen and select Wi-Fi sharing:
Activate the feature:

Cannot Disable Wi-Fi Sharing on Galaxy S20
The question: Why can't I disable Wi-Fi sharing? The toggle is grayed out.
The answer: Because of the Auto Hotspot feature enabled. Disable it first:
That's it. If you have any questions or anything to add on the topic, feel free to drop a comment below!