Backup and Sync from Google is a rather fresh app. It came to replace the two old programs for PC at once — Google Drive and Google Photos. Backup and Sync contains some awkward drawbacks making users stuck on configuring the app. Let me tell you about my case.
How I Faced the Issue
I have a photos archive on my hard drive. It is located in Pictures\Camera Roll\. I prefer splitting the archive into years. That's why in the Camera Roll directory I have sub directories named 2018, 2017, 2016, etc.
A few days ago I had to roll back my Windows 10 to the previous state using Aomei Backupper because the OS worked not perfect. As it turned out, the backup did not contain Backup and sync for some reason. So I downloaded the latest version and installed it.
When I launched the program it applied some settings from its previous installation. In such a way the parent folder named Pictures appeared in the list of synced directories.
I hate when Google's Backup and Sync rechecks all my photo archive each time I boot (or reboot) my computer I decided to add only the folder with the latest photos to sync.
And when I unchecked the "Pictures" folder in the Preferences and tried to add only '2018' the program told me "Something went wrong: Can't add path "C:\Users\tunecomp.net\Pictures\Camera Roll\2018″ because its a sub-folder or a parent of a folder that's already been added".
Even if I tried to uncheck the parent directory the app still reported that error.
Here is how to resolve the problem!
How to Remove Parent Folder and Add Sub-folder to Backup and Sync from Google
Go to Preferences:
Uncheck the parent folder (in our example "Pictures", that contains "Camera Roll" with all folders sorted by years – "2018", "2017", etc)
Click OK to apply changes:
Now you will probably see something like "Pictures" has stopped syncing". Confirm by clicking Continue:
If you see "Restarting Sync Engine", wait until it completes. You have no choice here because the preferences of the Backup and Sync app will stay unavailable until the sync engine restarts:
Go to the Preferences again.
Click on CHOOSE FOLDER and add the folder you want to back up to Google drive and Google Photos.
Now you can click OK and save folders list without getting the error: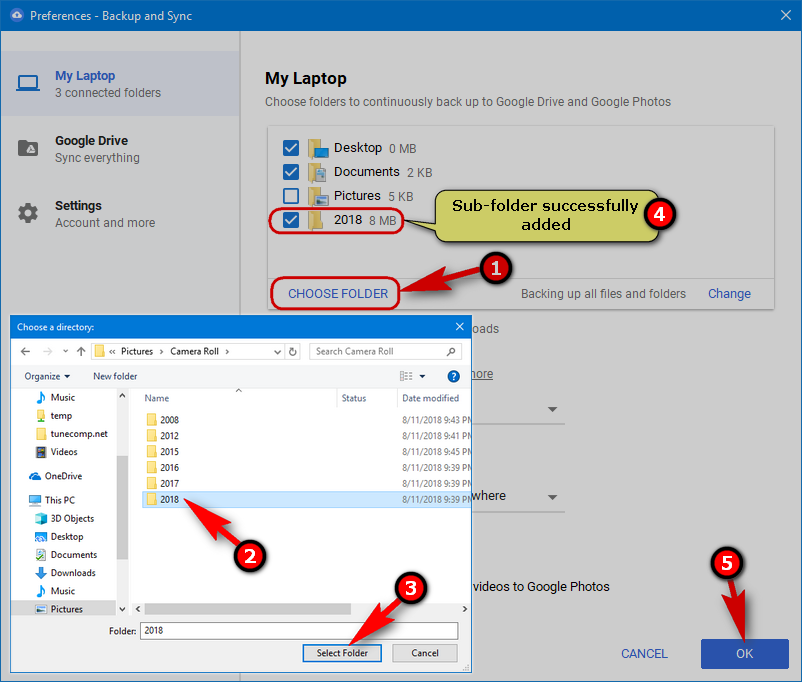 Dear Google! Please, either make the changes apply immediately or at least provide an "Apply" button.