In this article we will explain how you can clear the conversation with a certain contact in Skype 8. Hopefully, developers won't change everything again and I won't have to write this manual from a scratch.
Foreword
From time to time you understand that you need to clear your conversation history on Skype. You may want this to protect your private and sensitive information.
For example, if you wrote bad stuff about your boss while you were discussing your job with a friend be sure to delete this conversation before your go home. Or if you chatted with your former girlfriend hurry up to get rid of logs before your wife reads it 🙂 I'm just joking. But you know better than me when you need to purge the unwanted chat urgently.
The Problem
In the classic Skype program that you are so used to using you could clear the chat history in Tools → Options → Privacy → Privacy Settings → Clear history.
But since the Skype updated to the new version 8 in 2018 you don't have the opportunity to do it the same way.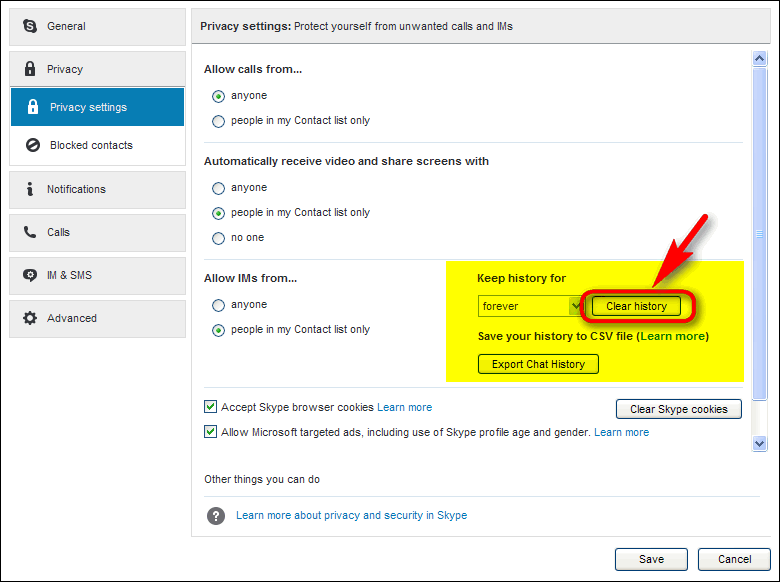 How it was in Skype version 7:
How to Clear History in Skype 8
Follow these easy steps:
Open the Skype 8 app.
Go to the Chats tab.
Right-click on the chat with a certain contact
Select Delete conversation:
Once you've done it, you can go to the Contacts tab, select the same contact and start a new chat (conversation) from a scratch. There won't be any history above:
That's it. Very simple. This means that now you can clear history for each conversation separately. If you know another method, suggest it in the comments!