Here are multiple effective solutions to prevent apps from draining the battery of your Samsung Galaxy phone. First you should try to turn off notifications from specific apps to get rid of sounds, vibrations and screen wakes. Then, you can restrict specific apps from working in the background. If this is not enough, turn off or even uninstall some of them.
The Problem of Battery Drain
Developers want their apps to work better and to deliver messages, notifications and various updates with no lag, especially when it comes to messengers.
None of publishers want you to post low ratings on Google Play with complaints like "I receive notifications in 10 minutes after my friend sends me a message! One star and uninstalled!"
But as developers make their apps more responsive and functional, it often leads to a heavy battery drain. Such an antagonism. It is a rather hard thing to make the app smart so that it sleeps and wakes when it is appropriate.
Some apps may consume much more energy than the average one do. If you spotted such on your device and you don't feel like you need them badly, you may just go and uninstall them.
But often, you realize that some battery draining apps are kind of useful for you and you don't want to part with them. What to do in that case?
Find Apps That Heavily Drain the Battery of Your Samsung Galaxy S20 (S10, Note 20, 10)
Before you start the battle you need to know the enemy by sight, right?
Follow the steps:
Go to Settings
Scroll down and tap Device Care:
Select Battery in the bottom left corner of the screen:
On the next screen you will see apps that consume the most energy.
How to Stop Certain Apps From Draining Battery on Galaxy S20, S10, S9
Now, when you already know which specific apps drain battery the most, we will turn to solutions of the problem.
We will put the measures in a special order, beginning with liberal options and than gradually proceeding to more radical ones.
Option 1: Disable App's Notifications
As you might know, the more notifications the app sends, the faster your battery will go empty. Thus, we recommend you to do the following.
First, first try to toggle different notification options to prevent the application from turning on the display and vibrating when a notification arrives. Disable some types of notifications.
Go to Settings > Apps.
Find the culprit and tap it
Select Notifications
Mute unnecessary alerts.
Consider disabling vibration and selecting Show silently for more important events.
Than, ensure that notifications are unable to ignore Do not Disturb. Otherwise all kind of alerts will be able to bother you even at night.
And finally, if this is not enough, block notifications completely for this specific app (I mean the one that drains your battery a lot):
Option 2: Restrict Background Data
Another step to reduce the power consumption is to restrict the app's background data. It means that the application won't be able to freely connect to the Internet when it is not active (open on the screen).
This may preserve your battery charge but you should also be advised that you may not receive updates or receive them not in time while the background data is restricted.
Personally for me it is not so important to receive every notification about each like and follower immediately. I'm totally okay to read this information when I decide to open the app.
At the same time, it is much more important for me to save mobile data traffic and in addition to save battery power when I'm outside. So I rectrict background data for some apps.
Here is how to do it on Galaxy S10 running Android 9 Pie with One UI: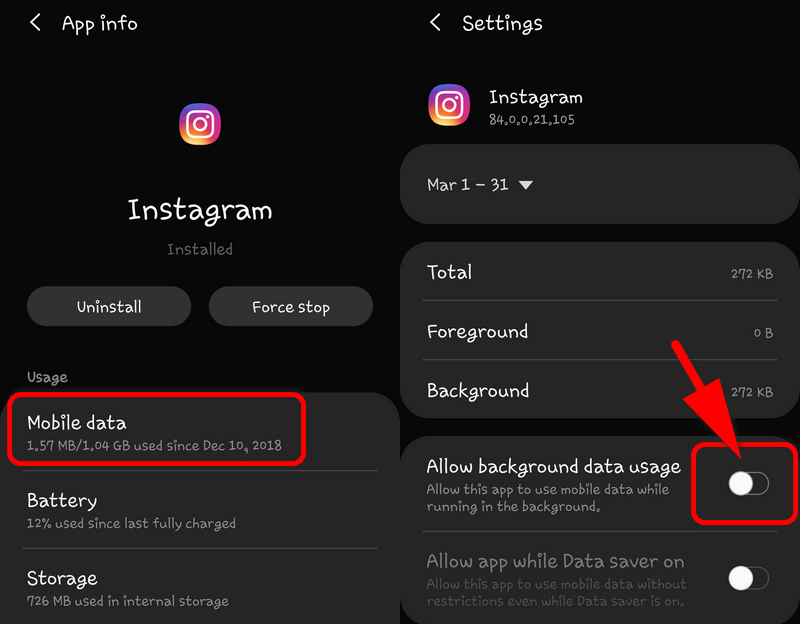 Option 3: Put an App to Sleep on Galaxy Note 10, S20, S10, S9
Go to Settings > Device Care > Battery
Toggle on Put app to sleep:
Another Method to Restrict Any App
Go to Settings > Device Care >Battery
Tap the three-dots icon in the upper right corner of the screen of your Galaxy phone and select Settings:
Go to Sleeping apps
Tap Add at the very bottom:
Select the app you want to prevent from draining your battery.
How to Stop the Sleep Mode
Method 1
Being in the Battery section tap the three-dot icon and select Settings:
Select Sleeping apps.
Tap the Rubbish can icon on the upper right:
Select one, multiple apps or all.
Tap Remove at the bottom of the screen:
Method 2
Being in the Battery section select the app from the list.
Toggle off the sleeping mode:
Be noted, that apps may not be able to receive update or show notifications while sleeping.
Option 4 – Disable Built-in Apps
You may dislike one or multiple pre-installed apps. But your Samsung Galaxy won't let you uninstall them completely. In such a case you'd better turn them off and stop such apps from draining your phone's battery.
We will show how to completely disable Facebook apps on Galaxy S10 / Note 10:
Go to Settings > Apps.
Tap the three-dot menu icon and select Show system apps:
Find Facebook tap it.
Tap Turn Off and then tap Disable to confirm:
Now agree to uninstall its updates (restore the original version that your Galaxy came with):
Tap Force Stop to stop it immediately and confirm:
Repeat the same steps for all other apps related to Facebook – Facebook App Installer, Facebook App Manager, Facebook services:
Option 5 – Uninstall Unnecessary Apps
Here everything is pretty simple. You go to Settings > Apps, select the app you want to get rid of and tap Uninstall.
This will completely remove the application that drains your battery (unless it is a pre-installed bloatware we were talking about in Option 3).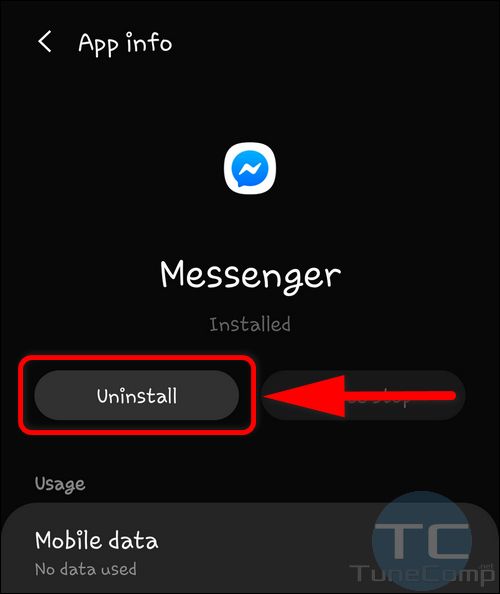 Final Thoughts
While playing with energy saving and sleep settings you should remember, that apps with restricted background data and activity may fail to send you notifications on time.
By doing such tweaks, one day you can realize that you are regularly missing an important piece of information – a message or call – along with reducing app's energy consumption.
In the conclusion we'd like to give you final tips on the problem:
try to get rid of apps that are not worth the energy they consume;
and try to switch to their smarter alternatives if available.
We'll be glad to read about your experience in the comments!
Read our common tips to avoid battery drain on Android 11, 10, 9.