The Problem
The problem looks like the following: Spotify, Google Play Music, Radio or any other music player app stops playing in about 2 minutes after Samsung Galaxy S10 (S9, S8), Note 10 gets locked. Here's how to fix on Android 9 Pie.
There is an aggressive mechanism of power saving on Android 9 Pie and Android 10 Q. The operating system tries to put every other app to sleep to prevent the battery drain.
But when it comes to audio players (and Spotify in particular) such extreme power saving behavior can turn out to be excessive and stop music playback after a few minutes (automatic screen lock by timeout) or even after a few seconds (if you lock your screen by pressing the Power button).
I asked my friends who own Galaxy S10 about the issue and here is what they told me.
Vincent says:
My Galaxy S10 itself offered me to limit the background activity of the application and I agreed. I would never have thought that this could lead to such sad consequences and affect the playing of music in the background. And when I noticed apps went to sleep and stopped playing sound or music, I had to find this setting and return everything as it was. Now there is no problem.
Jeremy (another S10 owner) says:
From time to time there is a problem with playing music through a bluetooth connection. I usually listen through Google Music and suddenly music can simply stop playing, and as soon as I turn on the screen (without unlocking) the music starts playing again. In the application settings, the background activity is turned on, but this problem sometimes appears anyway.
What to do? The answer is obvious – disable app sleep and allow background data.
What to do if Spotify, Google Play Music, Radio or Another App Stops Playing Music When The Screen is off on Galaxy S10, Note 10
All we know by now is one solution that consists of a few steps and one workaround.
Option 1 – Tweak Some App Settings Related to Power and Data Saving
Prevent App from Sleeping (Saving Power)
The first thing we should do is prevent the app from excessive energy saving.
Go to Settings > Device Care > Battery
Find the app that stops playing music
Disable Put app to sleep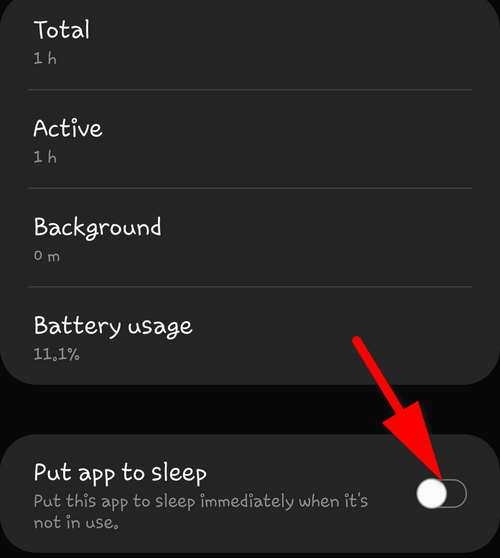 If you can't find the app in the list, you can do the same in the App Info screen.
Go to Settungs > Apps
Select the problem app that falls asleep when your S10 gets locked
Tap on Battery
Toggle on Allow background activity
Disabled "Put app to sleep" means absolutely the same as enabled "Allow background activity" on Galaxy devices running Android 9.
Disable Battery Optimization
Here is another setting we need to tweak.
Go to Apps > Spotify > Battery
Select All
Find Spotify or other app that stops playing music on lock and toggle off Optimize battery usage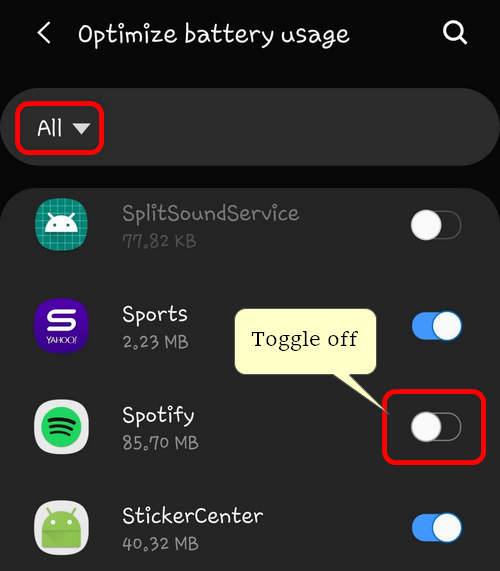 Now your music playing app should continue playing back after you've clicked the power button to sleep the display. However, some users report that if you allow the display to time out and sleep on its own, Spotify will continue to shut off when the display sleeps on some devices. It would be great if you tell us about your experience on the problem in the comments.
Mobile data
And finally let us allow the app to normally use cellular data, especially when it comes to Spotify.
Go to Apps.
Select your app
Tap on Mobile Data.
Toggle on Allow background data usage
Option 2. Temporary Workaround – Disable AOD Sleep on Galaxy S10, S9
If nothing of the above helps you fix music playback interruptions, you can try the following option that will hopefully help you get around the issue.
Go to Settings > Lock Screen.
Tap on Always On Display (not on the toggle):
Scroll down until you see Display mode and tap it:
Here select Show Always:
Configuring Always On Display to show continuously should prevent apps from being put asleep by Android 9 on your Galaxy and they should play music without interruptions.
Wrapping Up
This problem is extremely important and interesting for all Galaxy S10 owners. So, we'd like to ask you to tell us in the comments, what option worked in your case and what app did you face the issue with. If you know another solution, please, tell us and we will add it to the article. Thanks a lot in advance!