Perhaps, you accidentally deleted data from your disk (or just forgot to copy or move a file or a folder from your system drive, formatted disk C and reinstalled Windows from a scratch) but you know you have it in your backup copy created with AOMEI Backupper. How to recover files or folders without restoring the whole disk? In fact, this is very easy. AOMEI Backupper offers an extremely useful feature which allows you to mount backup images as virtual drives.
Mount an Image As A Virtual Disk
Launch AOMEI Backupper.
Head to "Utilities" > "Explore Image": 
Browse a previously created backup. You can either select a backup from the list or click on "Path" and specify a path to another image: 
 Let's say we decide to browse a path manually, because we have a recently installed copy of Windows. Find the proper file, select it and click "Open":
Select a backup point from the image and click "Next":
Assign drive letters to partitions inside the backup and click "Next":
Click "Finish".
How to Restore A File Or A Folder From Your Backup
Now you can open the virtual disk and browse your backup image: 
In such a way I can copy the folder from the backup and paste it to your hard drive:
Unmount the Image
When you restored all information, it is time to unmount the image. You have two options:
Reboot your PC.
Go to "Utilities" > "Explore Image" and click "Detach":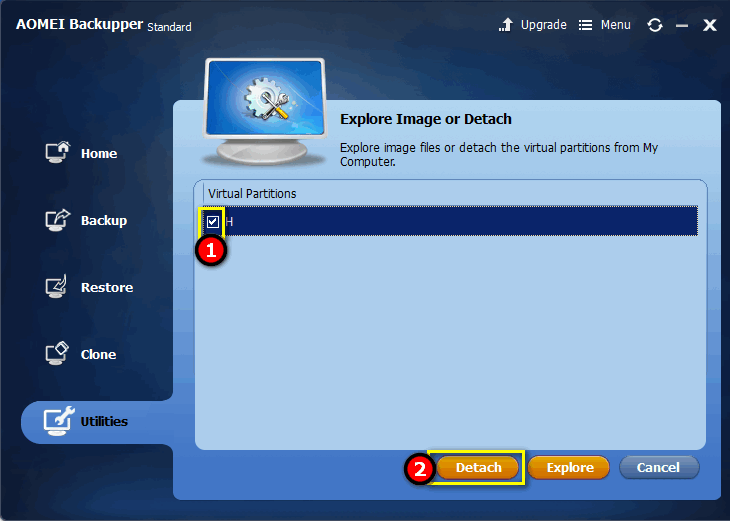 That's it. Tell us whether or not you use this feature and how often! We also love when you share our tutorials with your friends! 🙂