Some movies and songs are really quiet. And if you are trying to watch such video on a laptops without external acoustic system you won't be satisfied with the output volume.  Besides that many laptops have very weak embedded speakers. Here are a few methods to boost the sound volume in Windows in general (including volume in browsers) and how to boost the gain of a movie or mp3 in players without editing audio/video files.
Before you do something to boost the gain…
Go to Volume Mixer…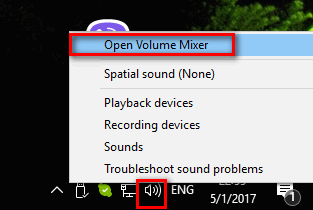 …and ensure all your apps have the maximum volume. So if the sound in the browser is too quiet, first, launch your browser and then check the corresponding slider in the mixer: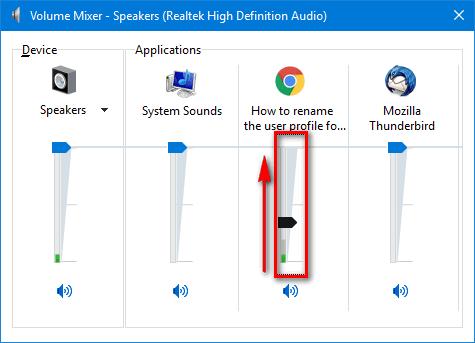 Increase the maximum volume using Windows settings
Here is how to make sound play louder on Windows 10, 8 or Windows 7. This will affect:
the maximum volume of Windows system sounds;
the volume of media played on websites in your browser;
the volume of songs or movies played in audio/video players.
Follow the steps:
Right-click the speaker icon in the Taskbar.
Select "Playback devices" in the menu: 
In the "Sound" window double click on "Speakers" in the list: 
In the "Speakers Properties" window go to the "Enhancements" tab.
Here scroll down to the bottom of the list and set the checkbox near "Loudness Equalization" and click "OK":

Increase volume in Windows 10 (loudness equalization)
From now on all quiet sound will play a lot more louder.
Make Sound Louder In Specific Player Programs
If the previous method doesn't help you increase the maximum output volume you can try the following programs.
Boost volume in Media Player Classic
Media Player Classic (MPC HC) is a very popular video player and is included into K-Lite Codec Pack. It offers great solutions to boost the sound volume. So, if your movie or track has a lack of volume and plays too quiet at 100%, try this:
Click "View".
Select "Options": 
Head to "Internal filters" > "Audio Switcher".
Set the checkbox "Normalize"
Click "Apply": 
You can adjust the amount of normalization, for instance, to 200%.
Besides that you can try the sound booster slider. You don't have to click "Apply" to hear the effect: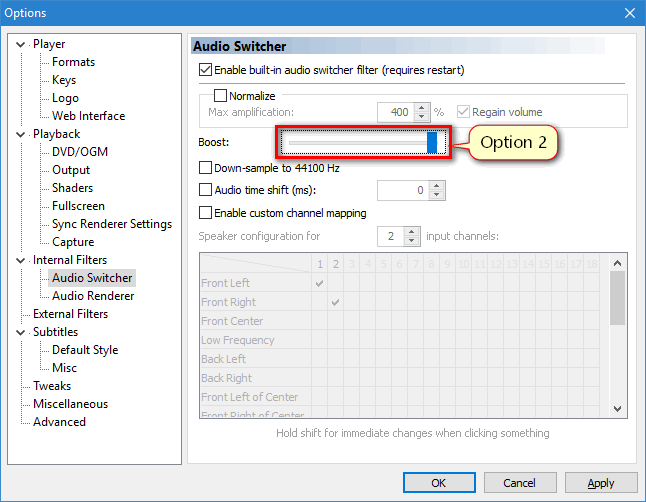 Increase the sound volume in VLC Media Player
VLC Media Player allows you:
to increase the volume to 125% using the volume slider: 
additionally boost the gain so that the sound gets 8 times louder. And here is how.
Select "Tools" > "Preferences": 
Switch to "All" to show all available options: 
Select "Audio".
Increase "Audio gain". You can change it up to 8: 
Click "Save".
Important! Restart VLC Media Player for changes to take effect.
That's it.