Almost every modern phone has at least two microphones. The 2-mic setup is used for noise cancellation during calls and for recording the stereo sound while shooting video.
But you can also force a third-party or native app to use both mics for recording audio instead of default mono mode. Thus, you can capture unique material for your vlogs or even music tracks.
In this article we will explain how to record a stereo sound with a superb quality on your Samsung Galaxy S21, S20, S10, Note 9, Note 8, S9, S8 and similar Galaxy devices.
How to Make Your Samsung Galaxy S or Note Record High Quality Stereo Sound:
Swipe up to open the app drawer.
Find the Samsung apps folder: 
Here launch the pre-installed Voice Recorder app by Samsung:
First of all, ensure you are using the Standard mode. If you select interview mode the recorded sound will be equalized in such a way that only middle frequencies will remain:
After you switched to the Standard mode, tap the menu dots and select Settings: 
In the Recording quality setting select HIGH 256kbps, 48 kHz.
And finally configure the app to use both mics by activating the option Record audio in stereo: 
Here is how it looks on Samsung Galaxy S21+ with One UI 3.1: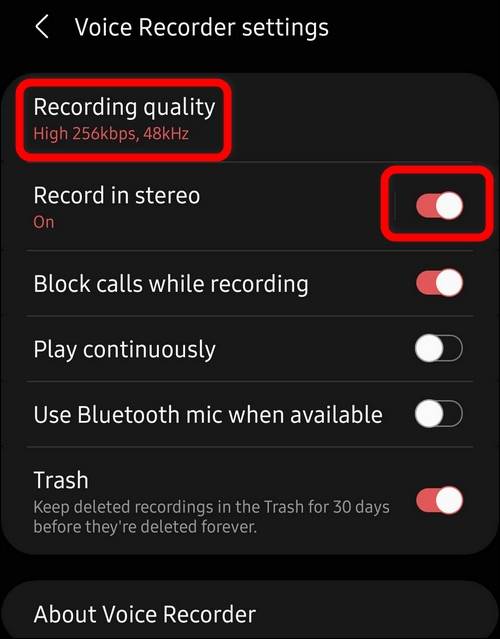 That's all.
Now you can tap the record button to record high quality stereo sound on your Galaxy device. The Voice Recorder app will remember these settings, so you don't have to adjust them every time you use it.
Don't miss: How to record high quality stereo sound on Google Pixel.