Windows 10 receives updates very often. About once a week it gets important fixes and patches requiring a system reboot to be installed. By default Windows 10 is configured to reboot automatically for the installation of important updates.
But sometimes this can cause inconveniences to you. Perhaps, you don't want to waste your time waiting until the update installation finishes and want to work on your PC right now.
So here are all possible methods to disable automatic reboot after updates installation in Windows 10. Besides that we will show how to configure the auto-reboot without turning off this option.
How to turn off auto-reboot in the Settings App
This method allows you to choose time when you don't want your PC to be rebooted in any case. But nevertheless your PC will be able to reboot to install updates when active hours end.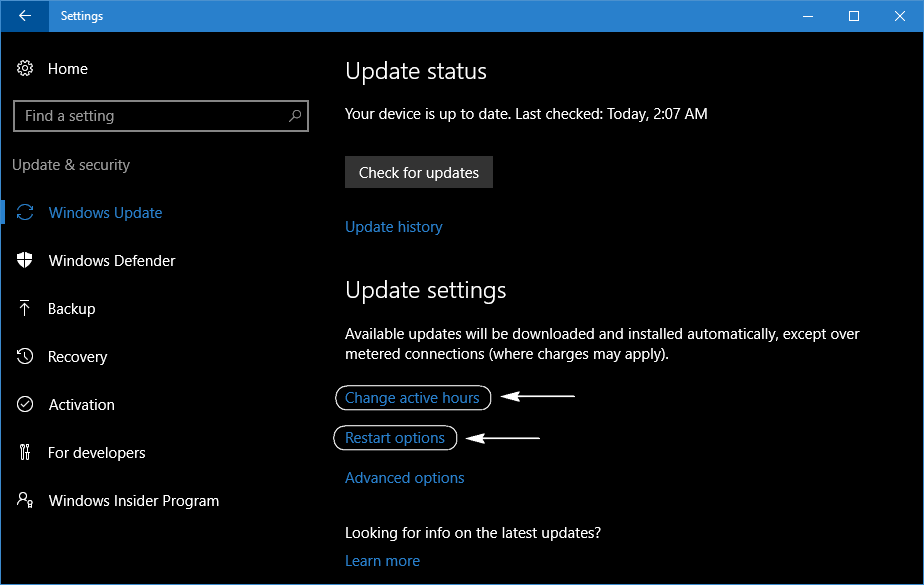 Go to Settings.
Click on

Update and security

.
Click on

Active Hours

and specify when you don't want your PC to reboot. 
If the restart has already been planned, you can also click on Restart Options and modify the restart time and postpone updates installation in such a way: 
How to disable automatic reboot using the Task Scheduler
One more way to disable auto-restart after installing updates is to disable the task in the Task Scheduler:
Launch the Task Scheduler.
Go to Task Scheduler Library/Microsoft/Windows/Update Orchestrator.
Right-click on the task named 

Reboot

.
Select

Disable

:

How to disable automatic restart for installing updates using the Group Policy
Here is one more method to completely turn off auto-reboot for installing updates in Windows 10.
It works for Windows 10 Pro and Enterprise.
Press Win+R.
Type gpedit.msc: 
Go to

Computer Configuration/Administrative Templates/Windows Components/Windows Update.

Double-click on

No auto restart with loggedon users for scheduled automatic updates installations

: 
Select

Enabled

and click

OK

: 
How to disable automatic reboot after the installation of updates using the Registry editor
This method works in all editions of Windows 10. So you can use it to disable automatic restart for installing updates even in Windows 10 Home.
Launch the registry editor:
Go to HKEY_LOCAL_MACHINE\SOFTWARE\Policies\Microsoft\Windows\WindowsUpdate\AU
If you don't have the

AU

key, create it in the

WindowsUpdate

. 
Create a new DWORD-32 value.
Name it 

NoAutoRebootWithLoggedOnUsers

.
Double-click it, type 1 and click OK: 
After you have disabled auto-restart you will decide when you wish to reboot or shut down and install updates. You will be able to choose: Update and shut down or Update and restart: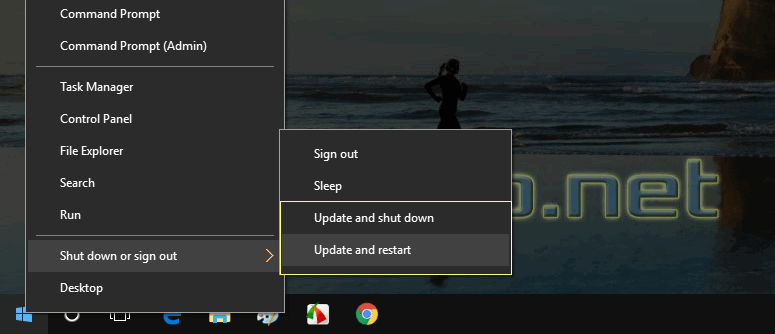 Hopefully these methods will help you to disable automatic restart in Windows 10.