You can tell your Android 9 treat Wi-Fi network metered or unmetered depending on what kind of network it is. By default all Wi-Fi connections are treated as unmetered because in most cases Android gadgets connect to wireless routers at home or office that are connected to a common ISP via Ethernet and are using an ordinary unlimited data plan.
But there can be different cases. For example, if you connect your Android device to the wireless network created by another phone you will connect to the Internet via the cellular data of that phone. Thus, you may want your device to treat the current Wi-Fi network as metered not to waste remote phone's traffic in vain. Once you marked a certain wireless network as a metered connection, your Android will try to download and upload less data through it. And here is how to do it. 
How to Tell Your Phone or Tablet to Treat a Wireless Network as Metered or Unmetered on Android 9
You can change the setting only for the active Wi-Fi hotspot (a network you are currently connected to)!
Open Android 9 Settings: 
Head to Network & internet.
Tap on Wi-Fi.
Make sure you are already connected to the network you wish modify settings for.
Tap on the Wi-Fi hotspot's name. By the way, here you can see how it is treated now. By default you will see Unmetered / Connected: 
Select Advanced.
Now tap on Metered: 

And finally select whether or not Android should treat the current connection as metered. By the way, you can select : 
Once you have done it, you will see Metered / Connected in Wi-Fi network properties: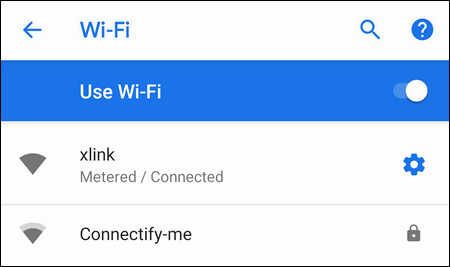 That's it!