Repeated message notification can be a rather useful thing if you like it and actually want this repeated alert to sound. It is activated by default on all iPhones.
What is it handy for? Perhaps, you receive an SMS while you are talking to somebody. Five minutes later you farewell to a person and forget about that text message. But there can be an important information in it and you may miss it.
On the other hand you can get annoyed by those repeated notification ringing all the time. Let say you went out of a shop and you received an SMS from your bank about the fact you spent a definite sum of money.
You even don't want to read it because you know what that message is about.And you get annoyed when you hear the notification tone again in two or five minutes.
Luckily you can disable the repeated alert for messages on your iPhone.
Turn off Repeat Alerts for Unread Messages on iPhone Running iOS 12, 13, 14
Open Settings.
Head to Notifications.
Scroll down and find Messages:

On the bottom you will find the Options area. Here tap on Repeat Alerts:
Select Never to turn off the repeat alerts completely: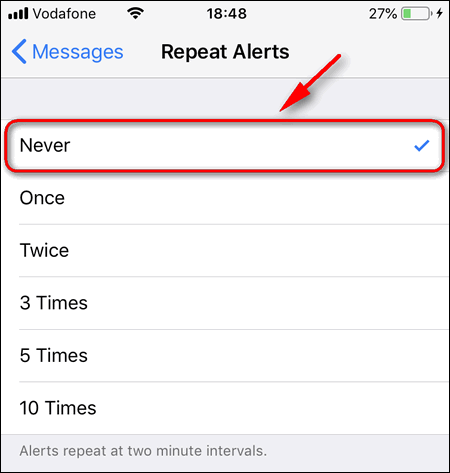 You can also choose another option here and tell your iPhone how many times you wish it to repeat notifications for received text messages (SMS) or iMessage.
For example, if you select 5 it means that your iPhone will notify you six times (one original alert + 5 times repeated) every two minutes if you don't unlock it.
I hope, that everything is clear to you. If not, ask questions in the comments.