A user asks: I turned on Bluetooth on Google Pixel but I cannot send a file to it cause it is not visible from another phone. Please, help me to find out what's the problem. I need to transfer files very often but hate connecting my devices to a PC each time. 
Well, this is a very reasonable questions. Indeed, Pixel phone have some peculiarities when it comes to wireless file transfer. Let's solve the problem.
How to receive a file via Bluetooth on Google Pixel. Device visibility peculiarities
The thing is Google Pixel (or Pixel XL) has no visibility timeout setting. The phone is visible only when you open Bluetooth settings and stay there.
Thus, to be able to receive a file you need to perform the following actions:
Toggle on Bluetooth: 
Tap on "More Settings" to enable visibility of your phone:
Wait until an incoming transfer request: 
Tap "Approve" to receive an incoming file from another device:
Wait for the transfer to complete: 
How to Find the Received Files
To open the image or any other file, tap on the notification in the drawer:
Then you will see a list of inbound transfers. Tap the one you wish to open: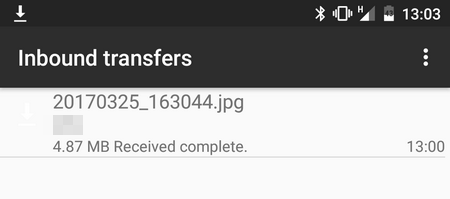 Another method
Open the "Downloads" app: 
Select file category: images, videos or audio. In our case we select Images because we transferred a photo:
Navigate to the Bluetooth folder: 
Here is our received image: 
That's it.