My Case: 1660 Ti for Old Core2Quad-Based PC
Here is a breif post about how I tested nVidia GTX 1660 Ti with my old Intel Core2Quad Q9500. All my friends were telling me "It makes no sense to install a new video card in such an old computer with such an outdated processor because it won't change anything! Don't do stupid things!" but they were wrong.
Real Boost in FullHD Playback
As you probably have checked, computers with old cheap graphics card can stutter and play audio asynchronously to video, that is very annoying.
But I felt a significant boost in a FullHD video playback when I switched from my old Radeon HD5450 1GB to GTX 1660 Ti 6GB.
My PC based on Intel Core2Quad Q9500 was stuttering while playing FullHD with 70 MBps bitrate (which I filmed using the ProMovie app on iPhone 7) but with 1660 Ti it started playing the same video clip absolutely smoothly. Moreover, the high CPU load was fixed.
My old card wasn't displayed in Windows 10's Task Manager, so I don't know its load during the playback of 1080p 60 fps mov-file. Just can say, that I felt like GPU load was close to 100%.
I even tested the video rendering in Adobe Premiere Pro and was pleasantly surprised that the computer coped much faster.
4K – Still a Problem
With 4K things will be different. While most clips filmed at 4K 30 FPS may play pretty well, videos recorded at 4K 60 FPS quality will likely play bad: with stuttering and audio/video lag. The CPU is going to be permanently loaded by 100%.
At least in my case it was just that. If you have a CPU less powerful than my old Intel Core2Quad Q9500, things may be even worse.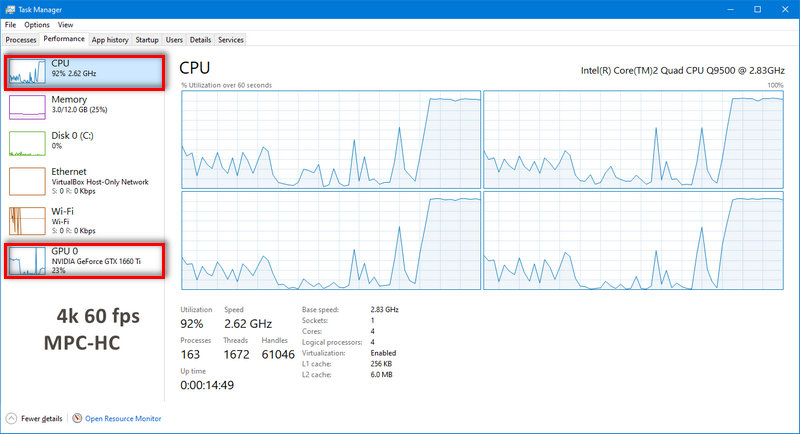 4K editing and rendering on such config, as you might already understood, is out of the question.
Yet Another Expense Item
Here is yet another thing than can vote for NOT buying a new graphics card for an old desktop computer: you may need to buy a new power supply unit. I had to change PSU because mine did not have enough power, did not have enough free Molex connectors to connect GTX 1660 Ti to a PSU through a special power adapter.
Thus, if you calculate your expenses, the new graphics card and new more powerful PSU may turn out to be more expensive than the rest of your old hardware.
On top of this, the boost in performance will not solve all your requirements (boost only in FullHD while 4K playback, not to mention editing, is still a problem).
How Much?
If I bought a new GPU and PSU instead of temporarily moving them from my new PC, it would cost me $340 for GPU + $56 for PSU (around $400 in total).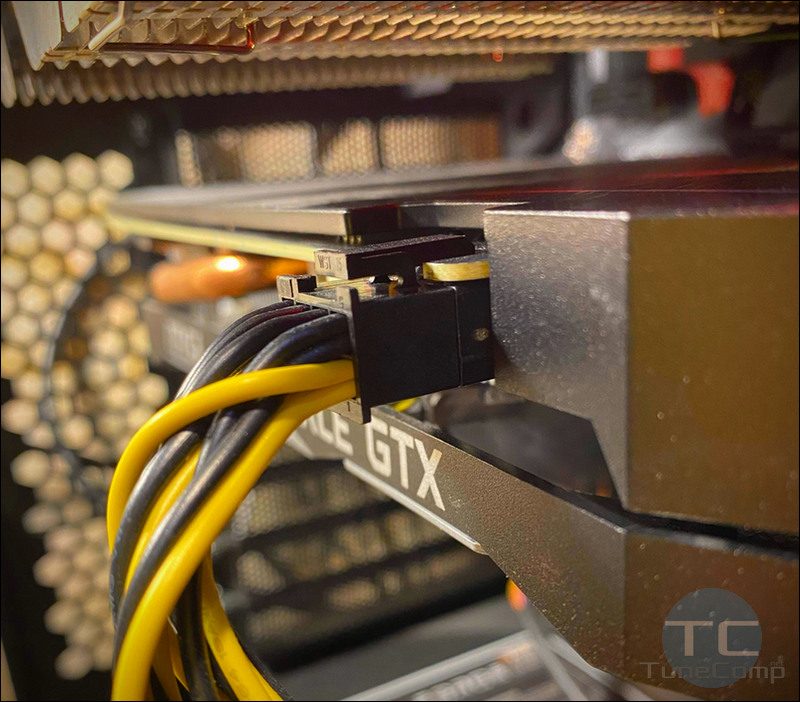 The Conclusion
Based on the foregoing, we can conclude that buying a new graphics card for a PC based on an old platform won't solve all your problems, but will cost you a significant amount of money. (However, you will be able to use your new graphics card and your new power supply unit to build a new PC when you decide).
If you realize that you will be happy to play FullHD (1080p) videos smoothly and 100% confident that you are not interested in 4K resolution, well, do the upgrade. Maybe, you will use such config for next 3 years and will be totally satisfied.
But if you want to play 4K smoothly or edit / render video, you have no way out except purchasing a brand new PC based on a modern platform.
Feel free to drop a few lines about your experience related to graphics card upgrade in old PC in the comments! Thank you!