If you ever used a flashlight on your Galaxy phone, you probably noticed that its brightness is "not the best on the market". And some of you probably even got upset by comparing the brightness of the flashlight on your flagship Galaxy S21, S20, S10, S9 to another phone.
Don't be upset! Because You Samsung Galaxy phone has a setting most of you are unaware of which allows to increase the flashlight brightness. Don't worry, you don't need to install any third-party apps.
By default every Galaxy phone I held in my hands has the torch brightness set to the middle level — 3 out of 5 to be more specific. It is in this default setting where the frustration of many users lies.
How to Make the Flashlight Brighter on Galaxy S21, S20, S10, Note 20
This guide is applicable not only to S21, S20 / Note 10 but also to any model with Samsung's OneUI skin.
Pull down the notification shade to reveal the flashlight quick toggle.
Tap on the tile to turn on the flashlight.
Now tap on the text below the tile:
Adjust the brightness to the desired level:
Note that you should turn on the flashlight to be able to adjust the setting!
Once been adjusted, the brightness will be saved no matter whether you tap "Done" or not. From now on it is enough to tap the toggle and turn the flashlight on and off.
It will glow at the maximum brightness when you turn it on. If you need to decrease the brightness, tap the text "Flashlight" under the corresponding tile and adjust the level again.
Flashlight Brightness on Galaxy Devices with Older Android Versions
If you own a Galaxy device with Samsung Experience running on top of Android 8, the adjustments are pretty the same. Here is how it looks on Galaxy S7: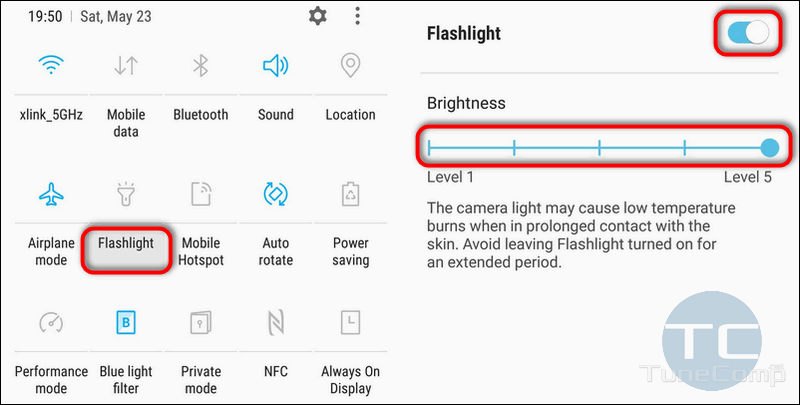 If you own a device with TouchWiz, as far as I know, there is no brightness adjustment available on such old models.
We would be happy if you tell us in the comments whether or not you knew about this feature before you read this article. Thank you!
Read next: How to Adjust Brightness of Always On Display on Galaxy S20