In this guide you will find my tips on how to get rid of high-pitched noise produced by electronic components or at least make it much quieter. Presumably, the following steps should work fine on Z390 AORUS Pro Wi-Fi, Z390 AORUS Master and similar motherboard models. Keep reading.
If you are an owner of Gigabyte AORUS motherboard you probably should have faced the annoying high frequency noise. I was unpleasantly surprised at this noise when I purchased Z390 AORUS Pro mainboard but suddenly figured out how to get rid of it.
How to Get Rid of the High Frequency Noise on Gigabyte Aorus Motherboards
The main dependence that I was able to establish is: the more overclocking and the higher performance – the more noise the motherboard will produce. But it is not always about performance itself, what the step 1 is about.
Step #1: Uninstall RGB Fusion App
The RGB Fusion app is an app by Gigabyte that works on their own framework. I noticed that my motherboard Z390 Aorus Pro produces much more noise when I choose non-static modes – flashing, double flashing, pulse or color cycle.
First you need to launch the App Center program which serves as a framework for Gigabyte utilities.
Launch the RGB Fusion utility.
Disable all lights or set every LED group to work in static mode: You can also click on the home icon and switch the mode for all LED groups altogether:
Close RGB Rusion.
(Optional). Now right-click on RGB Fusion in the Gigabyte App Center and uninstall it if you don't want to switch back to flashing or color cycle modes and hear the noise again:
Step #2: Disable Overclock in EasyTune
EasyTune is yet another utility by Gigabyte that lets you control performance and power consumption of your CPU and RAM. Launch it from the App Center and make sure to disable any overclock. Just activate Default or Eco profiles.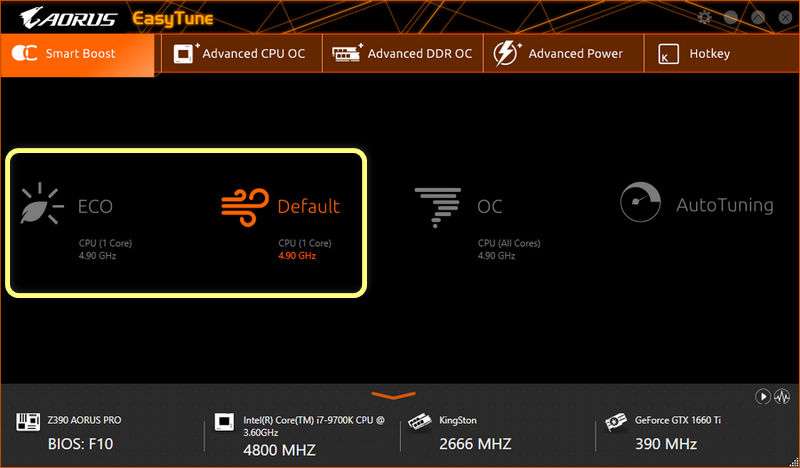 If you think that you won't need EasyTune in future, just right-click it in the App Center and uninstall the utility.
Step #3: Switch Windows to Balanced Power Profile
The last step is to tweak system power settings. If you have Windows 10 installed on your PC, do the following:
Press Win+X.
Click on Power Options:
Click the Additional Power Settings link in the left pain (it can also be at the bottom depending on the current Settings app window size)
Here switch to the Balanced (Recommended) profile:
Wrapping Up
If you know other ways to lessen the noise of micro electronic components on Gigabyte / AORUS motherboard, you can suggest them in the comments below.
We'd also appreciate if you tell us whether or not our tips helped you get rid or lessen the noise and what exact model of motherboard you own. Thank you!