Google Photos Wastes Too Much Cellular Data
Google Photos is an extremely popular app designed to store, view, manage and backup your precious moments of life in image and video formats. Personally I use it on my both devices: Pixel and iPhone.
But, as you might know, images and especially videos consume a lot of storage when backed up and use a decent amount of cellular data when you view it (and even browse through the thumbnails).
When talking about the Internet at your home there is no problem here because in most cases you use unlimited plan of your wired ISP.
But how to preserve your mobile data – that is the question. I mean how to continue using your favorite app but but prevent Google Photos from using the cellular connection in vain? In this article we will give our tips to stop it.
How To Solve the Problem
Let us find out how to prevent the app from using too much data.
1. Set Up Google Photos To Backup Images And Videos Over Wi-Fi Only
Go to Google Photos settings and ensure the backup via cellular data is disabled. These are the default settings but you should check if they are still unchanged. If you need to backup your camera album rapidly you may opt to backup images over the cellular connection while videos will be uploaded over the Wi-Fi only.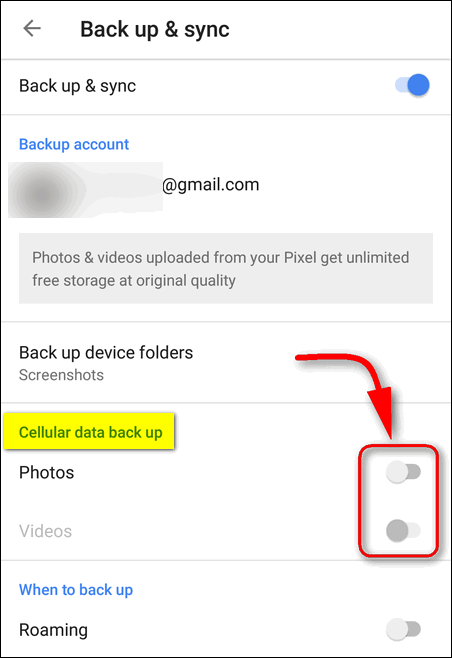 Android: Tap the Sandwich icon in the app → "Settings" → "Back up & sync" → Turn off "Cellular data back up" for both Photos and Videos: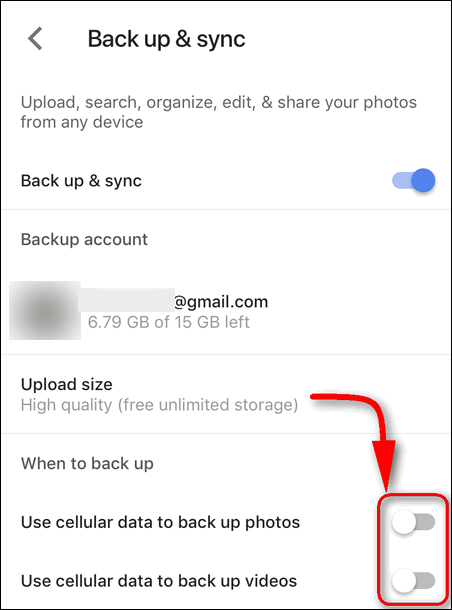 iOS: Sandwich icon→ "Settings" gear→ "Back up & sync" → Turn off "Use cellular data to back up photos" and the same for "…videos":
2. Do Not Limit The Cache Of Google Photos on iOS
The smaller cache amount you use – the higher probability you will need to download your photos and videos from the Internet cloud and consequently use your cellular data. Go to app's settings → Select "Manage device storage" → and turn off "Limit cache size":
With such a setting you will allow more cache to be stored in your device memory and consequently you will be able to browse much more content without downloading it from the Internet.
3. Adjust The Auto-Delete Setting In Google Photos App On Android
Many users select to automatically remove the items from their camera roll after 30 days. If you have enough storage on your mobile device, try to set 90 days instead of 30 or 60 to keep your content in the device's storage as long as possible. You can do this in the Smart Storage settings: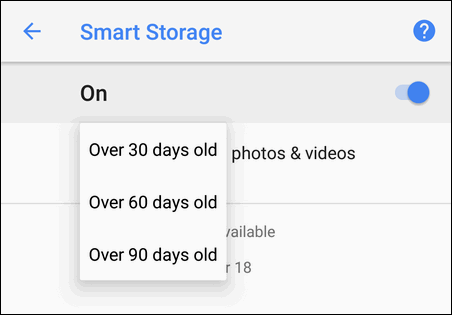 Radical Measure
Prevent Google Photos App To Use Cellular Data On iOS
On your iPhone, iPad or iPod: Go to "Settings" → "Cellular" → Disable Cellular Data access for Google Photos app:
After this the app won't be able to access the Internet via cellular data at all. You will see only those thumbnails and photos that have already been cached before:
Restrict Background Data Usage on Android
On Android devices you cannot completely cut off mobile data access for Google Photos. Instead, you can restrict app's background data. However, this often helps stop traffic wasting.
On your Android phone or tablet:
Open "Settings".
Go to "Network & Internet".
Select "Data usage":

Scroll down and select "Mobile data usage": 
Tap on "Photos" in the list of apps that use your mobile data: 
Disable the Background data toggle for the app: 
After you've done this the app will be able to use mobile connection only if you launch it and keep active. So you'd better close it and even remove from Recent Apps.
Share your opinion concerning the issue. What do you do to prevent Google Photos from eating your cellular gigabytes?