As you probably know Android operating system is very smart to locate you. It uses GPS, nearby Wi-Fi networks and mobile data at the same time for better results. By saying "better" I mean faster and more accurate.
But it is not always clear which method it uses right now to locate your device. So you may want to force your Android device to use GPS only to estimate your location.
This will allow you to test the work of the GPS module in your device (test its accuracy and sensitivity) or to find out which positioning method works better in a particular area. And here is how to do this.
How to force Android phone or tablet to use only GPS to estimate your location
The easiest way to tell your device use only the built-in GPS module for estimating the location is to use the corresponding tile in "Quick Toggles".
Fist, toggle on the location by tapping on the icon. Then, tap the text under it. By default it is "High accuracy". But you can switch it to "Device only".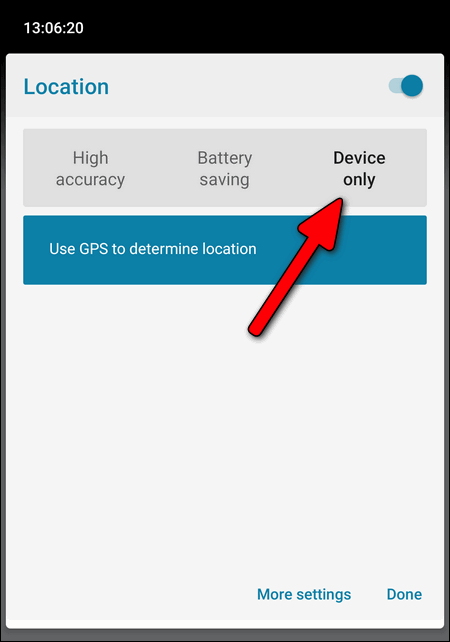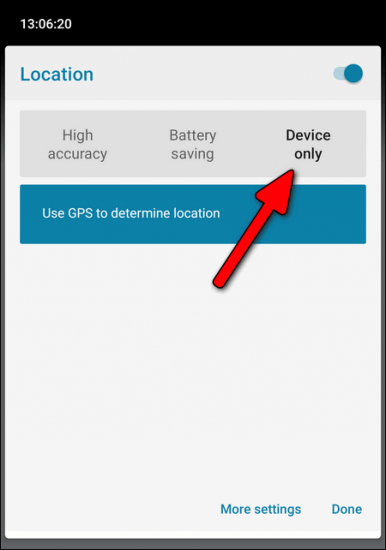 In addition, you may disable Google location accuracy, which can use Wi-Fi, Mobile data and even Bluetooth to estimate your location.
For this purpose hold down the quick tile in the shade to reach the settings section you need. Then, dive into "Google Location Accuracy".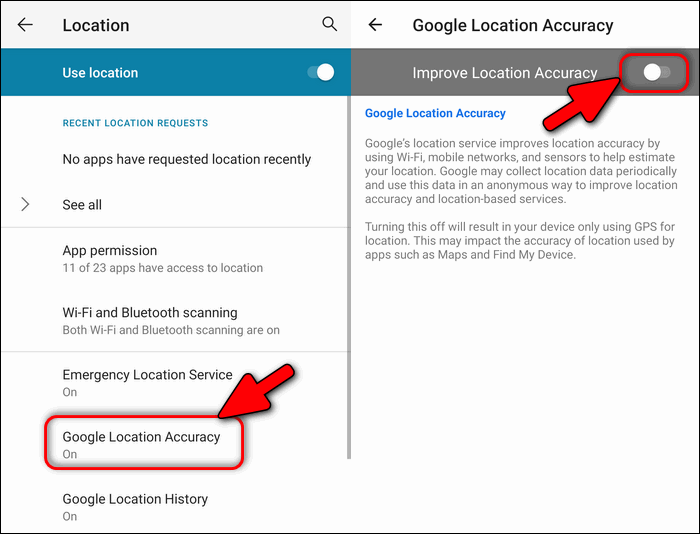 Note, that Google Maps will likely refuse to show where you are once you've toggled off the latter setting.
GPS Only Mode on Galaxy Devices
Let's take an example from Samsung Galaxy S10 with OneUI 2.1 (android 10).
Go to "Settings".
Scroll down dive into "Location".
First, toggle on the location.
Then, open the "Improve accuracy" settings.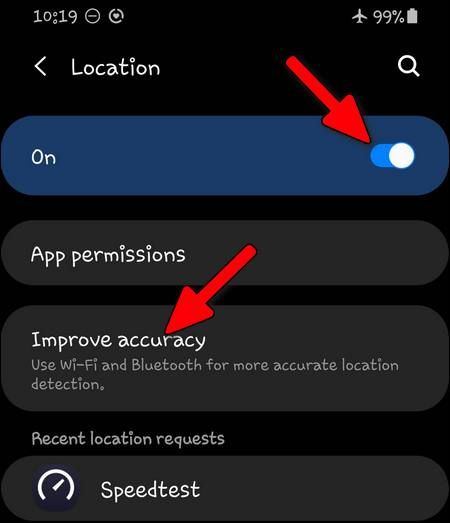 Here disable Wi-Fi and Bluetooth scanning.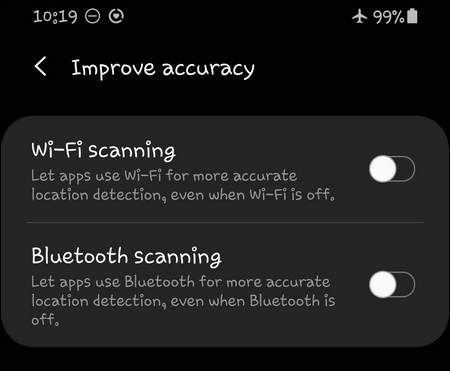 On Galaxy S7 with Samsung Experience these settings have a slightly different look. First, you need to Go to "Settings" > "Connections" > "Location".
Here toggle it on, dive into "Locating Method" and select "Phone only" to test your GPS.
On tablets you need to select "Tablet only".
And then, go to "Improve accuracy" and disable Wi-Fi and Bluetooth scanning.
And here is one more example. I took my old Galaxy S4 that runs Android 5 with old TouchWiz skin.
Step 1. Go to Settings → More
Step 2. Turn on Location by tapping on the switch.
Step 3. Tap on the word Location to enter its settings:
Step 4. Tap on Mode:
Step 5. Select GPS only:
Now you can judge how accurate the location is when your Android estimates it using only the GPS module.
Unfortunately, this setting will be reset to its defaults after you turn off the Location in Samsung Galaxy devices.