File Transfer Problem Between iOS 13 (iPadOS 13) and Windows 10
When I connect my brand new iPhone 11 with iOS 13.1 to my Windows 10 PC I face the following issue. I can normally download photos but I as soon as I try to copy at least one video file I immediately get the error "A device attached to the system is not functioning".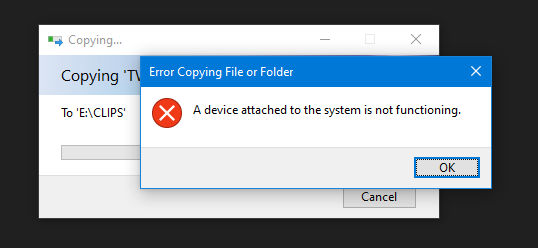 If I try to copy another file I see another error "Error Copying File or Folder: The device is unreachable".
So, I have to disconnect my iPhone 11 from my Windows PC, reconnect it again and only then I'm able to download at least images. If trying to copy at least a single video clip, I get the error again. I upgraded iOS to 13.2 beta, but the problem persists.
Thus, I'm unable to transfer videos from my iPhone to my PC. So I have to turn on my MacBook Pro and airdrop them. This option is working just fine on Mac.
And… just for the purity of the experiment, the same error emerged on my old laptop with Windows 7:

The last thing I'd like to say before I turn to telling you about solutions is I installed the app for HEIC/HEIF support on my Windows 10 PC but they did not solve the problem.
I mean, that was able to open both images and videos created using high efficiency codecs but I was still unable to transfer them from my iPhone 11 to my Windows 10 PC via original USB A to lightning cable.
Steps to Fix "Device Attached to the System is not functioning" and "The device is unreachable" Errors on Windows PC
Despite you see errors on your Windows 10 PC, you should change settings on your Apple device.
Open Settings on your iPhone or iPad:
Go to Photos app settings:
Scroll down to the Transfer to Mac or PC section.
Select Keep Originals instead of Automatic:
Disconnect your iPhone or iPad from your Windows PC and re-connect again.
If you see the dialogue asking whether or not you want to allow your PC to access photos and videos while it is connected to your iPhone, tap Allow:
Now you should be able to successfully transfer files.
Extra Steps To Fix File Transfer Problems from iPhone to Windows PC
Here are some additional information on the problem. It is a low probability that you will need these steps, but you must know about them when troubleshooting errors "Device Attached to the System is not functioning" and "The device is unreachable".
Restart Both Your iPhone (iPad) and Your Windows 10 PC
As you might have already guessed, the problem may arise due to the fact that the above dialogue does not appear on the iPhone for some mysterious reason.
Thus, your Apple device does not know your answer to the question "Allow or disallow your PC to access photos and videos?" Here's what you do.
That's why, it's reasonable to try rebooting all devices involved in the file transfer. Reboot you Windows and iOS (iPadOS).
Reset Privacy Settings
Disconnect your iPhone / iPad from your PC.
On your Apple device go to Settings → General → Reset (at the very bottom) → tap on Reset Location & Privacy:
Enter your passcode to confirm reset.
Connect your Apple device to your computer again.
Tap Allow:
One More Workaround
It also should be mentioned that you may evade "A Device Attached to the System is not functioning" and "The device is unreachable" errors without touching the format setting in the Transfer to Mac or PC section of your Apple Photos app. You may just go to Settings → Camera → Formats and switch to Most compatible:
Weird Moments
Once you've done this, you will be able to transfer newly created files to your PC but not old ones (which are already taken in high efficiency formats).
I know, that there is a contradiction in my words, because Apple claim that 4K 60FPS videos are always recorded in high efficiency format, but since I switched to most compatible formats I can successfully transfer all my video clips filmed in 4K 60 FPS on my iPhone 11 to my Windows 10 PC without changing any settings in Apple's native Photos app. Frankly, it is not completely clear to me even now.
Wrapping Up
I would appreciate very much if you give me some feedback concerning the file transfer problem in the comments.
Is there somebody who has their iPhone 11 working fine in terms of transferring files to Windows 10 PC without altering any settings?