Android 10 finally brought the native Dark Theme that is especially useful for saving power on Android devices with AMOLED displays and prevent such displays from premature burnout. It changes the settings app, all menus, notification shade, quick settings panel and even some apps like Google Drive to black design.
In this guide we will explain: how to enable the dark mode on Android 10, how to quickly switch between dark and light themes using the quick toggle and how to find and apply an absolutely black wallpaper on Google Pixel.
How to Enable the Native Dark Theme on Android 10
Follow the steps:
Go to Settings:
Select Display.
Tap on Theme:
Select Dark: Done:
How to Quickly Toggle the Dark Theme
You can add the Dark Mode tile to quick toggles and quickly switch between the dark and light modes on your Android 10 device. All you need to do is:
Pull down the notification shade and swipe one more time to fully open the Quick Toggles.
Tap on the Edit (pencil) icon on the bottom left:
Hold the Dark Theme tile, drag it upwards and let it go:
Done! Now you can toggle the dark mode from the quick settings panel: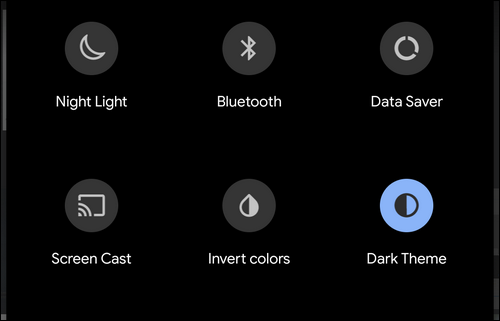 That's it!
By the way, if you want to prevent your AMOLED display from burnout we strongly recommend you to use a black (or at least dark) wallpaper together with this theme. Personally I use a solid black color instead of a wallpaper on my Google Pixel.
How to Set a Built-in Black Wallpaper on Google Pixel with Android 10
Tap and hold your finger on an empty area of your home screen.
Select Settings:
Scroll down to the Solid colors selection:
Scroll down to the very bottom and select the black one:
Done! Now you've done all to save your battery and screen!
Feel free to tell us whether or not the dark theme helps you save the battery charge, how effective it is and what device you are using it on.