AccuBattery is the app designed to estimate your battery health and alert you to disconnect your phone from the charger when the battery is charged to 80% (or the level you chose). But what to do if the AccuBattery app stopped alerting you when the certain charge level has been reached? The notification permissions is the thing you should check to fix the problem.
I know that most people turn off all notifications for AccuBattery by mistake because they want to somehow get rid of the annoying Battery Status notification in the shade and don't know how to do that the right way. However, in some skins like Flyme by Meizu there's no way to turn off the battery status notification without affecting the charge alarm.
How to Disable the Battery Status Notification in AccuBattery but Leave the Charge Alarms Enabled
Do the following:
Open the AccuBattery app.
Tap the three dots icon on the top right.
Select "Settings".
Scroll down to the "Charge Alarm" section. In different skins running on top of Android you may have different look of this setting. But you should see somethings like "Charge alarm sound & vibration" there. Dive into this setting.
Disable the "Battery status" notification category. (Do not toggle off all notifications for the AccuBattery app).
Make sure you left the "Charge alarm" category enabled.
Here is how it looks in different Android skins:
Stock Android:
OneUI on Galaxy phones:
EMUI on Huawei: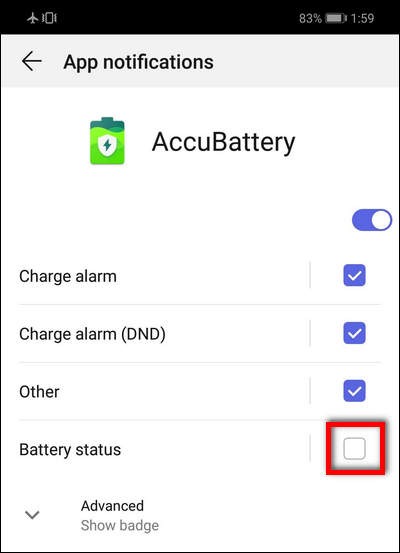 MIUI on Xiaomi devices: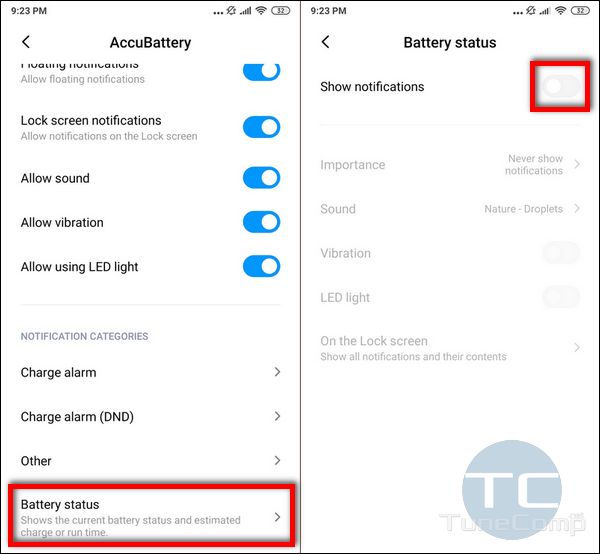 As the result, we have no battery status notification in the shade but we still have the sound & vibration charge alarms that are the main profit of the app.
Unfortunately, I haven't found how to disable the battery status without turning off all notifications in Flyme 8 running on top of Android 7 on my Meizu M6 Note. Maybe, there are more skins where you will face the same issue.
Test Charge Alarms!
Don't rely on this guide and your following the steps – just test the alarms right away! For this purpose:
Temporarily adjust the target battery level to the current one +1%.
I mean, if you now have your battery charged to 43%, set the alarm in AccuBattery to 44%.
Connect the charger to your device.
Wait a bit until the charge will add 1% and find out whether or not you are getting the proper alarms.
Please, tell me in the comments, whether this worked on your phone. Thank you.