In this tutorial I will show how to disable auto replace on Samsung Galaxy S20, S10, S9, Note 9, Note 8 running One UI on Android 10 and 9.
What's the Problem and Why Disable It?
Automatic word replacement is a feature that is designed to fix typos on Android. In Samsung Keyboard app on Galaxy devices it is called auto replace.
It can be rather handy in many cases if you use the official language. But as soon as you start using slang chatting with your friends, you will likely face some frustrating moments.
The auto correction feature will replace the majority of spoken words with the "correct" words belonging to the official language that are similar in spelling. The program will simply think that you made a typo while you wrote that way intentionally.
Unfortunately you cannot disable auto-correction in keyboard for WhatsApp and Reddit app but leave it enabled for all other apps.
On Samsung Galaxy phones the Samsung keyboard is pre-installed by default. If you switched for another keyboard app you should read another article – for instance, how to disable the auto-correction in GBoard.
How to Disable Auto Replace in the Native Samsung Keyboard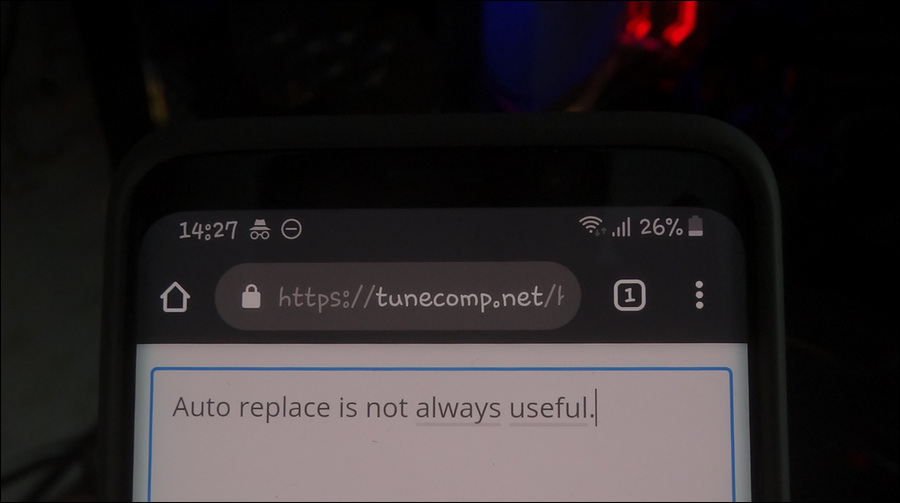 Unfortunately, I failed to find the settings I need using the search in Samsung Galaxy's Settings app on my Galaxy S9 running Android 9 Pie. Hopefully the developers will fix this drawback in future.
Thereby, follow these steps to disable the auto replace on your Galaxy phone:
Open the Settings app on your Galaxy phone: 
Scroll down and select General Management: 
Tap on Language and Input.
Then On-Screen Keyboard: 
Here select Samsung Keyboard (it is set by default on Galaxy devices).
And enter the Smart Typing settings: 
The Auto replace setting is the one you need: 
And finally switch it Off for each language separately:


Disable auto replace for English language in Samsung Keyboard Galaxy S9, S10
Done! Since now on the auto correction won't disturb you anymore.
Please, drop a comment to let us know why do you turn off auto correction on your device.