Google Assistant is built-in feature that helps you quickly get answers on your questions. You can just say "Ok Google" or long press the home button and start asking your phone or tablet to send email, call someone, find the nearest restaurant, or just learn what is the weather forecast for today.
By default Google Assistant uses a female synthesized voice. It is nice I should say. But you can make it talk to you using a male voice if you want something new on your smartphone. By the way it is cool to switch to a male voice just to surprise your friends and everybody around you. People will ask you "Wow! What app is this?" because they don't know that you can actually change the voice. And here is a step-by-step instruction on how to do it in the voice settings. 
Which one should you choose? Choose the one you enjoy more – it's completely up to you. But if you ask me I would advise that you select a male voice if you spend time mostly in a company of women and vice versa because I believe that the voice belonging to one gender is better distinguished against the background of voices belonging to the opposite gender.
Article updated on October 16, 2018 because the Google app has been redesigned.
Follow the steps to change Google Assistant to Male or Female Voice
I will show how to do this in Setting on Pixel Devices (9):
Open the Settings app.
Select Google: 
Scroll down a bit and tap on Search, Assistant & Voice: 
In the Google Assistant section select Settings: 
In the Account section tap on Assistant.
Then select Assistant Voice below:

Here you can choose between 8 voices to make Google speak to you in a male or female timbre.
Female are: Red, Amber, Cyan, Purple.
Male are: Orange, Green, Blue, Pink:

When you select the one you like just tap the Home button to exit settings.
History
In old app version there were only two options: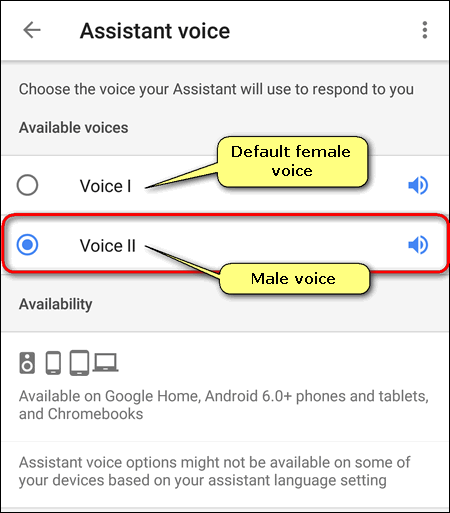 Change Google Assistant Voice to Male Right from the Assistant Window
Hold down the home button or say "Okay, Google" to activate the Google Assistant and make its window pop-up.
Tap the blue icon in the upper-right corner of the screen: 
Touch the tripple-dot icon.
Select Settings: 
Now do the rest of the steps from the 1st method. Head to Preferences > Voice > Select male or female voice.
This is how you can quickly switch them.