Xiaomi Redmi Note 5 (Note 5 Pro, Note 5 AI Dual Camera) as well as its follower model Redmi Note 6 record video in FullHD 1080p at maximum using its native Camera app. But since the phone has a rather powerful Qualcomm Snapdragon 636 CPU it can shoot video at higher resolutions without problems.
In this guide I will explain how you can force your Xiaomi Redmi Note 5 phone record 4K 30 FPS. Besides that, you will learn how to fix app crashes during the video recording and how to improve your video quality.
Be advised, that your phone mustn't shoot video at a resolution that it doesn't support officially. Your device may work unstable (freeze, reboot) when trying to shoot video in at a higher resolution.
Moreover, the ability of recording 4k video may vanish after you install the next Android update onto your phone. People on the Internet say that the auto-focus stopped working after a certain MIUI update on Redmi Note 5.
How to Record 4k Video on Xiaomi Redmi Note 5 / 6 / 7
The goal can be achieved only by installing third-party camera apps. Open Camera and Cinema FV-5 can do the trick.
Install Open Camera.
Open the app.
Go to Settings > Video Settings
Here tap Video Resolution and select 4K.
Disable the stabilization. It is important. Otherwise you will face the app crash or slow down a lot.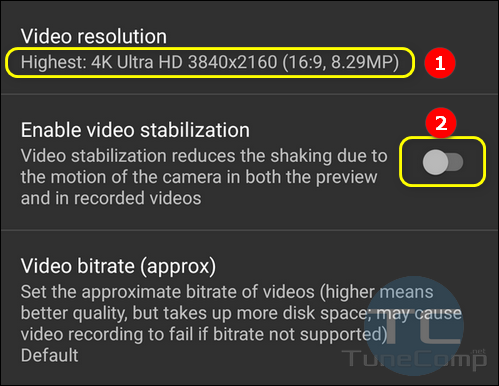 You can also use the Cinema FV-5 app to record 4K Video on your Xiaomi Redmi Note 5. Here is the difference in configuring:
You need to activate the Show extended resolutions option before you are able to select 4K. Afterwards choose 4K or any other resolution you wish to test on your phone:
To turn off the stabilization tap the Menu icon on the viewfinder screen and deactivate the Hand icon:
Extra Tips to Improve the Video Quality
Select bit rate 50 MBits. By default Redmi Note 5 shoots video at about 40 Mbits. But you can improve it up to 47-49 MBits. There is no point in setting 70 Mbits or more in the options.
You may want to decrease the Contrast. The phone's camera creates a too contrasting image. Go to Settings > Video > Set image parameters.
Final Words
Hopefully, these tips will help you start recording a high quality 4K video with stereo sound on your Xiaomi Redmi Note 5 or similar phone models. If you have some curious experience or have some valuable information to add feel free to drop a comment! Good luck!