What to do if video freezes but audio plays, the clip plays without sound or audio is not synced to video? The answer is – install the right Video Player app!
Our reader asks for a help: I've got an action camera Sony X3000 that records in 4K @ 30 fps. When I came back home after a vacation I decided to download videos recorded by my action cam to my Galaxy S9 and you know what? I was unpleasantly surprised.
The clip was playing but there was no sound. Just silence!
I tried to play videos on Google Pixel, Redmi Note 5, Samsung Galaxy Tab A6 but the result was still the same – no sound.
How can I fix the issue? Actually, I'm totally okay that my old phones may not support the codec. But I can't understand how can my brand new Galaxy S9 be unable to cope with the playback of a 4K 30 FPS video while it shoots 4K 60 FPS itself!?
I checked the movie file properties on my Windows PC and found out that it had the ordinary characteristics – nearly the same as it shoots itself:
Video: MPEG4 Video (H264) 3840x2160 29.97fps 95049kbps [V: Video Media Handler (h264 high L5.1, yuv420p, 3840x2160, 95049 kb/s)]
Audio: QT PCM 48000Hz stereo 1536kbps [A: Sound Media Handler (pcm_s16be, 48000 Hz, 2 channels, s16, 1536 kb/s)]
How to Make Videos Play With Synced Sound and Fix Freezing Movies on Android
It is normal. I had the same problem when I used the stock video player on Galaxy S9+ and Google Pixel XL. As you rightly admitted, your Galaxy S9 records 4K at 60 FPS. It means that it is powerful enough.
So in most cases video or audio won't play because your Android device lacks some audio/video codecs. As the result you can either have an error like "Can't open this file" or have no sound.
I advise you to install the MX Player app from Google Play Store and there is a high probability that you will make your phones and tablets play all video files from your cameras.
The app is great. It has the biggest number of codecs embedded in itself. Besides that, MX Player is often able to play videos which stutter in other apps.
Some More Tips
If your Android phone / tablet is not a powerful one and some movies are stuttering or video is not synced with audio, try changing the decoder. You can try switching between Hardware, Hardware+ and Software decoders. It often helps to play videos more smoothly and get the audio synced: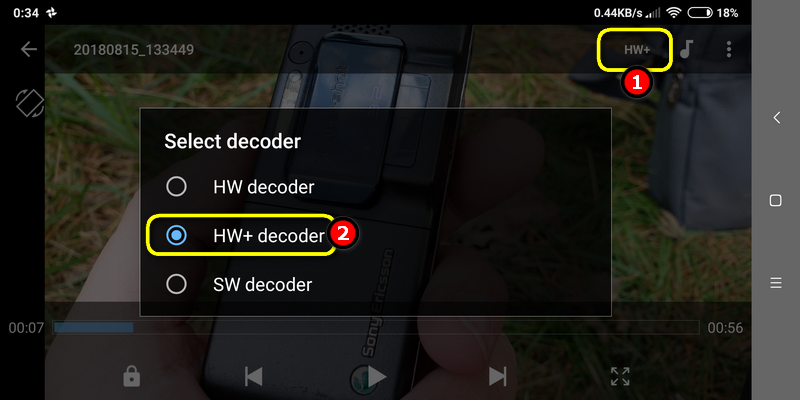 Afterword
If this app solved your problem completely and you have now all your videos from all your cameras playing back normally I advise you to install a paid version – MX Player Pro. It's the same but it is ads free.
Personally I use this one on all my Android devices. I paid once but I use it everywhere because all my phones and tablets are attached to the same Google account.
I must also admit that installing MX Player is not a 100% nuclear option that makes all videos playing on every old and cheap phone. Of course, you won't be able to watch 4K clips on Galaxy Ace 3 from 2013 🙂