One of the most popular questions concerning networking in Windows 10 is "How can I share a folder on network?" Because it is very convenient to use shared folders on the home LAN. For instance, you can use your desktop with 8 TB hard disk drive as a NAS or file server. Thus, you won't need to download the video to your phone or laptop to watch it. Besides that, several people can view and edit the same documents if you share the folder where it is located. You can set up permissions to read only or full access allowing to modify files from remote devices. Here is our simple step-by-step guide on how to set up network access without setting up a homegroup in Windows 10 and share a folder to everyone on your LAN.
By the way, Microsoft is going to kill the Homegroup feature in the upcoming versions of Windows 10.
Set Up Network Access on Windows 10 and Share a Folder Without Creating Homegroup
Step 1. Enable network discovery and turn off homegroup-based access
Right-click the network icon and select

Open Network and Sharing Center

:
Click on

Change advanced sharing settings

:
In the "

Current Profile

" section select:
– "

Turn on network discovery

",
– "

Turn on file and printer sharing

",
– "

Use user accounts and passwords to connect to other computers

":
In the "

All Networks

" section select "

Turn off password protected sharing

":
Click "

Save changes

".
Sign out to apply changes (or just reboot your PC):
Step 2. Configure folder sharing for everyone
Here is how to share a folder in Windows 10. In our example we will show you how to share a folder for Everyone (for all users even those who don't have an account on your PC).
Right-click on the folder you want to share for your local area network.
Select "

Properties

":
Go to the "

Sharing

" tab.
Click on "

Advanced sharing

":
Set the checkbox "

Share this folder

".
Then click "

Permissions

":
Specify full access or read-only access for "

Everyone

" and click "

OK

":
Now go to the "

Security

" tab.
Click "

Edit

":
Click "

Add

":
Type "

Everyone

":
Now click "

OK

", "

OK

" and "

Close

".
As a result, you can access the folder shared on the PC running Windows 10 from another machine on the LAN without entering any user credentials: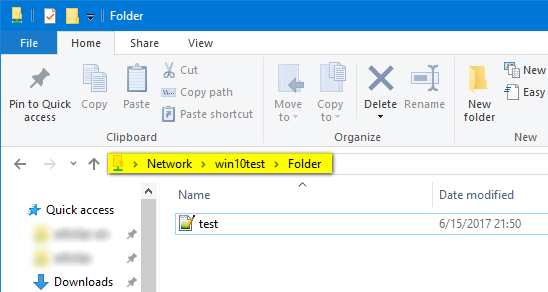 I hope, this article was helpful to you.