You can hide your phone, your email, not to show your profile picture in Skype if you wish. But people who are concerned about privacy have long been asking the question on forums: "how can I hide my Skype profile from search?" Today we will explain how you can entirely hide yourself if you don't want your account to be suggested in the Skype search. And vice versa – how to allow displaying your profile in search results, so anyone will be able to find you using your name and username (for old accounts created before being acquired by Microsoft and merging with LiveID).
How to prevent your Skype profile to be found in Skype search (hide)
Use the app for Android.
Launch the app.
Tap on your profile picture on the top of the screen: 
Go to

Settings

 by tapping the

gear icon

: 
In "

My account and settings

" select "

Privacy

": 
Switch off "

Include me in search and suggestions

" to hide your profile from the Skype search:

Hide Skype profile. People won't be able to find you in the search.

As the result, nobody will be able to find you in the search:
How to allow finding your Skype profile (unhide)
You can always switch it on to allow others to find you using the search in the app:
Let's check the result and try to find our Skype account using the desktop app. Now we can find it: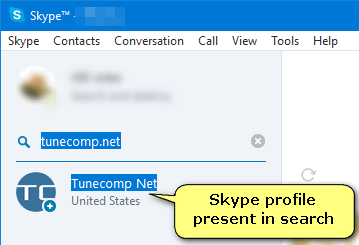 Not difficult at all, as you can see.
Please, tell us in the comments section whether or not such privacy-related guides are interesting for you. Thank you in advance!