Not all apps have such an option in settings that lets you enable or disable the automatic start of the program when you turn on your PC. But you may want to add programs to startup in Windows 10 and make them automatically launch when the PC boots up to a user account. By the way, it's not only about apps. You can do the same even with a document, URL address or folder if you need. Here is an ultimate guide on how to find the startup folder for a particular user or for all users and make a program run at startup in Windows 10. 
Windows 10 Startup Folder Location
If you want to add a program, URL or document to startup you should place its shortcut to user startup folder. By default it is located in:
C:\Users\Username\AppData\Roaming\Microsoft\Windows\Start Menu\Programs\Startup
How to Quickly Open the Startup Folder in Windows 10, 8, 7
Method 1
Copy this address:%APPDATA%\Microsoft\Windows\Start Menu\Programs\Startup
Press

Win+E

to open Windows Explorer.
Paste it into the address bar: 
Hit

Enter

: 
Method 2
Another way to open Windows 10 startup folder is to use the Run dialogue:
Press

Win+R

Type

shell:startup

Click

OK

or press

Enter

:
How To Add A Program To Startup In Windows 10
You may put shortcuts to various items into this directory. But be cautious: adding too many programs to the folder can make your PC boot slowly (especially if you are still using a classic hard disk drive as your system disk).
STEP 1. Open the Startup Folder using any method explained above.
STEP 2. Copy a program, app, folder, document, link or anything else:


STEP 3. Paste the shortcut to startup folder: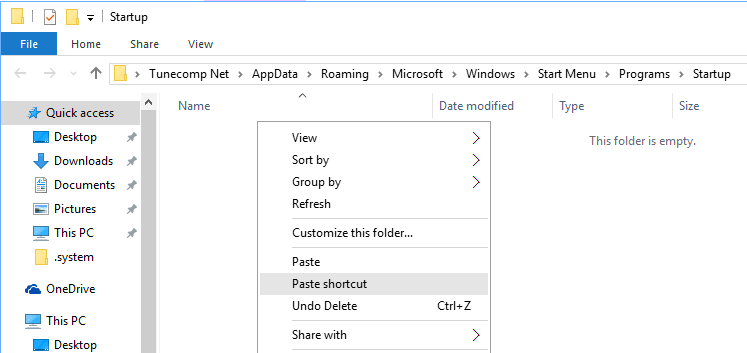 This is how it should look like:

How To Add A Program To Startup In Windows 10 For All Users
If you wish to set a program to run on startup for all users accounts, create its shortcut in common startup folder. In Windows 10 its default location is:
C:\ProgramData\Microsoft\Windows\Start Menu\Programs\StartUp
You can open it by the path: %ProgramData%\Microsoft\Windows\Start Menu\Programs\StartUp or using the Run dialogue as we explain below.
Press

Win+R

.
Type

shell:Common Startup

Press

Enter

:
Copy the executive file or document.
Use

Paste

or

Paste shortcut

to place one to Common startup folder:
Alternative Method To Create A Shortcut In The Startup Folder
Right-click the empty area and select

New

->

Shortcut

:
Browse the file or folder or enter URL and press

Next

:
Give a name to your new shortcut and press

OK

:
Now restart your computer and check if your program, app or another item you specified runs correctly as you log in to the user account (or as soon as your PC signs in automatically as we explained here).
Recommended to read: How to turn off the password request in Windows 10, 8, 7