In one of our previous tutorials we explained how to clear the whole call history. But sometimes you may want to delete an individual caller from the recent calls list but you don't want to clear the whole log.
For instance, you wish to remove the phone number you've dialed by mistake because you don't want to redial it once again. It is obvious that you won't add it to your contacts with a name "Stranger. Don't call" 🙂 That's why you need to remove it from your Recents.
In this guide you will find how to delete an individual call record from the Recent Calls log on various phones with different Android versions and UI skins: Pixel, Galaxy, Huawei/Honor, Xiaomi/Redmi and Meizu.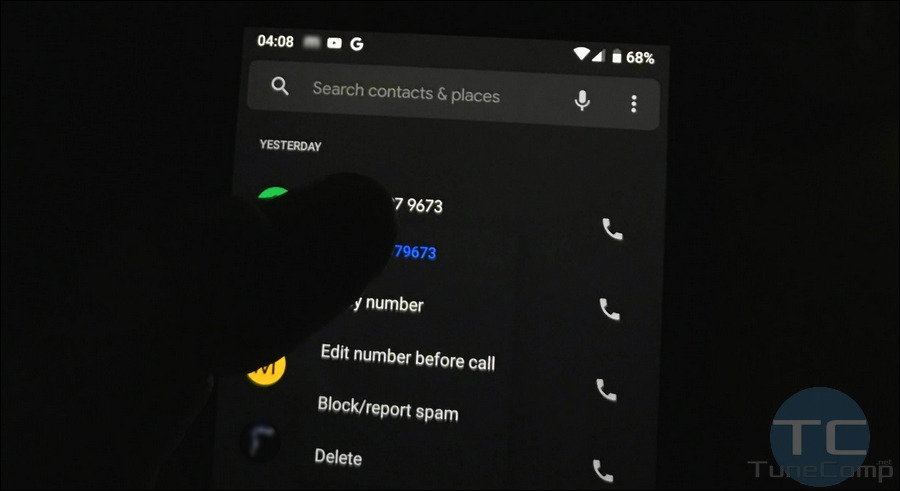 Contents:
Remove Only One Caller from Recent Calls on Stock Android (Google Pixel)
Screenshots from Google Pixel on the stock Android 9 Pie
Open the Phone app.
Go to Recents.
Long tap on a call record you want to get rid of.
Select Delete:
Delete Only One Call Entry from Recents on Samsung Galaxy
Screenshots taken on Samsung Galaxy S9 running Android 9 Pie with One UI
Go to Phone.
Select Recents.
Long tap on the caller.
Tap on the rubbish can icon at the very bottom:
How to Delete an Item from the Call Log on Huawei
Huawei Nova 3i running Android 8.1 with EMUI 8.2.0
Launch the Dialer app.
Long tap on a caller you want to remove.
Select Delete entry.
Confirm by tapping Delete:
Clear a Recent Call Entry on Xiaomi
Redmi Note 5 Pro running Android 8.1 with MIUI 10.2.1
Go to Phone (a.k.a Contacts & Dialer)
Long tap on an item in the Recents.
Select Clear batch:
Select entry you wish to delete.
Tap Delete:
Confirm deletion:
Delete 1 Caller from History on Meizu
Meizu phone running Android 7.1 with Flyme UI 7:
Open the Phone app.
Switch to the Dialer tab.
Long tap on the recent caller.
Tap Batch delete.
Delete at the bottom of the screen:
Confirm:
Afterword
That's it. Now you know how to delete an individual call record from the list of recently dialed, received and missed calls on your Android phone without clearing the whole log that may be quite important to you.
I often use this feature to get rid of spam call logs and phone numbers I dialed by mistake. But you may also want to remove individual calls from the history to hide the conversation with your secret contacts 😉
Be advised that you cannot hide the fact of a phone call from your carrier, no matter what you delete in the phone.
Tell us in what cases do you remove particular items from your Recents list. Feel free to comment and add your screenshots! Good luck!