YouTube Accelerator is a malware product published by Goobzo LTD. It is being positioned as the software to boost the YouTube performance. But in fact it is designed to generate the revenue for its owners.
YouTube Accelerator icons are located on the desktop and in the systray: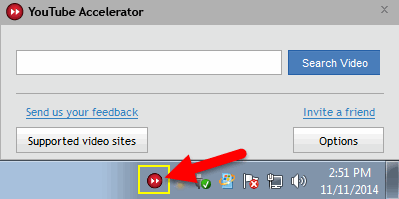 The components of the harmful application are installed into the following folders:
\Program Files\Youtube Accelerator\
\ProgramData\YTAHelper\ 
Harm from YouTube Accelerator
1. Installs without user permission.
Usually YouTubeAccelerator is distributed in a bundle with free software. Sometimes it is possible to refuse from the installation. But sometimes it installs in a silent mode.
2. Causes the third-party ads show up.
After YouTube Accelerator is installed the unwanted ads can pop up or integrate into the website content.
3. Slows down the browsers performance.
The third-party advertising banners load extremely slowly and try to update very rapidly. As a result it may take more than minute to load the ordinary web page which is normally loaded in 3-5 seconds.
4. Able to download and install another malware.
YouTube Accelerator Removal
Uninstall the harmful software
Close all web browsers.
Launch Programs and features (Win+R, appwiz,cpl, Enter):
Select YouTube Accelerator by Goobzo Ltd.
Press Uninstall/Change:
Press Yes to uninstall:
Press Yes to restart:
Remove the harmful extentions and add-ons
Check all browsers for harmful extention presense.
Turn off and remove the unknown extentions from every browser.
You can also reset the browser. In this case you will need to reinstall your extentions, specify default search engine and start page.
Use HijackThis
Refer to the manual.
Press Scan to search for malware.
Set the checkboxes:
BHO YTAHelperBHO;
O23 – Service YouTubeAcceleratorService.
Press Fix checked:
Use MBAM
Press Scan Now.
Select Quarantine next to objects containing the words YouTubeAccelerator and YTAHelper.
Press Apply Actions to remove the malware components:
Use AdwCleaner
Press Scan to search for adware.
Select items, containing 'YouTubeAccelerator' and 'YTA' on every tab of AdwCleaner utility.
Press Clean to remove all found adware components: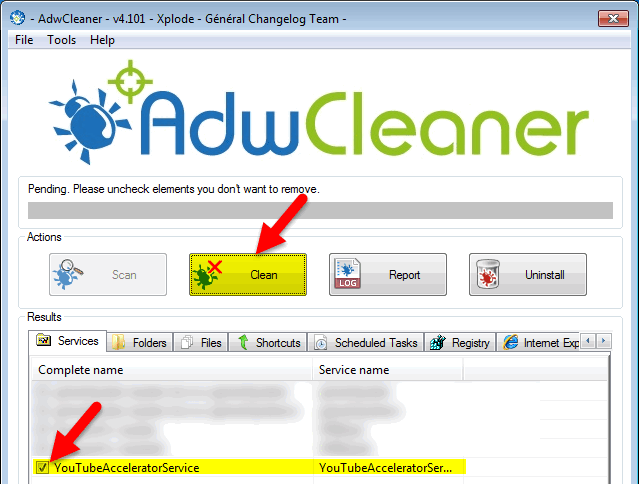 As a rule it is enough to scan the system with any of the above mentioned utilities to successfully remove YouTube Accelerator and YTA Helper. You can use several utilities just to ensure that the malware is removed completely.