WiFi Limited is a widely spread error in Windows 10 and Windows 8.1 and you can encounter at any time. If you see a network icon with yellow triangle with the exclamation mark it means that you have problems with your wifi network and you have no internet connection. Often the problem occurs after you upgraded your operating system to the new edition or build. But in other cases the error "Limited" or "Limited Access" emerges without any visible reason. Technically, there exist a lot of reasons that can cause Wi-Fi Limited issue. So there is no universal fix. In this article we collected all possible solutions. You need to try all of them, because no one knows which one will help to solve the problem in your case. So, here is how to fix WiFi Limited access problem in Windows.
Foreword
Before you begin to try our solutions of "Limited" issue we advise you first to:
Reboot your router.
Reboot you PC.

Forget network and reconnect.
These basic steps are needed just to ensure you don't have accidental glitch.
How to fix WiFi Limited in Windows 10 and 8.1
Solution 1. Reset network adapter settings
Launch the command prompt as administrator:
Run these commands (copy, paste and hit enter for each command):

netsh winsock reset catalog
netsh int ipv4 reset reset.log

Your console should look like this:

Reboot your PC!
Solution 2. Fix WiFi Limited issue using other Netsh commands
Launch command prompt as administrator.
Copy and paste commands and hit Enter after each one:

netsh int tcp set heuristics disabled
netsh int tcp set global autotuninglevel=disabled
netsh int tcp set global rss=enabled

Here is how it looks in command line:


Reboot your PC!
Solution 3. Update Network driver
Use auto-update feature:
Solution 4. Manually install another network driver
If the previous step did not help, try to manually install a different driver among the supported drivers. In mjst cases the installation of 802.11n Wireless LAN Card or another compatible driver helps to fix the issue with "WiFi Limited":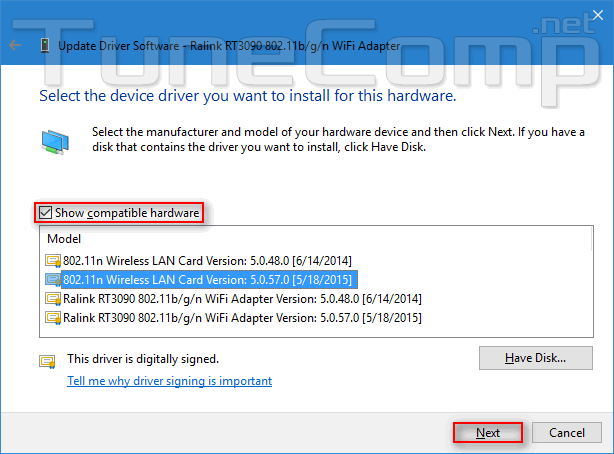 Solution 5. Disable power saving for Wireless Network Adapter in Device Manager
If you have issues with your wired adapter disable power saving for it. If you have "WiFi Limited" near your wireless connection, do the same to your wireless network card. So all you need to do on this step is Call the properties of the needed network card by double-click, then go to Power Management and uncheck the flag Allow the computer to turn off this device to save power:
Solution 6. Disable power saving in Power Options
Right-click the Start button.
Select Power Options: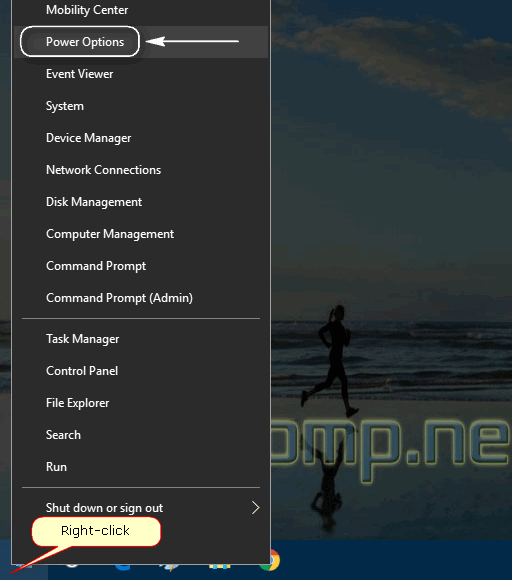 Click on Change plan settings for your active power plan:
Change advanced:
Select Maximum performance in both settings: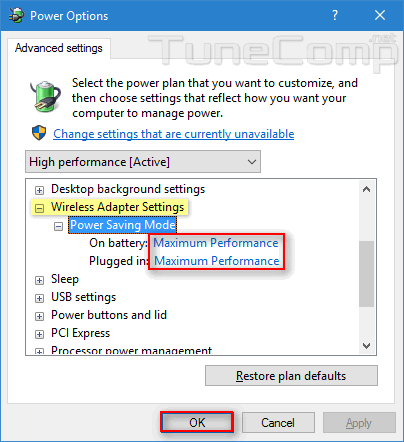 In most cases these steps are enough to fix WiFi Limited error near the wifi connection. If the problem persists read the other solutions.
Solution 7. Set up automatic IP and DNS obtaining
Sometimes setting Google DNS helps to fix WiFi Limited error. First ensure you have automatically DNS and IP. The thing is malware or a virus is able to change the network settings. Most often it modifies DNS settings to be able to inject ads into your browser or redirect you to fraudulent websites. Long story short, in most cases when you use the wireless router you ought to set up the automatic obtaining of IP and DNS addresses on your laptop, desktop or Android device.
Right-click the network icon in the system tray.
Select Network and Sharing Center:
Click on your wi-fi or wired connection:

Click Properties: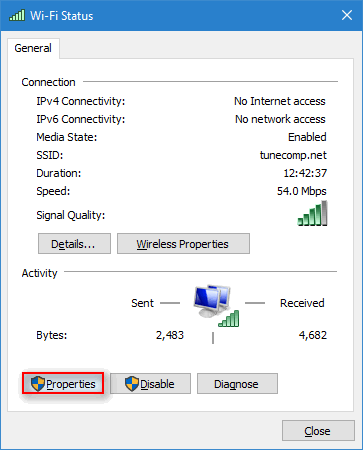 Here:
uncheck

IPv6

;
Select

IPv4

;
Click

Properties

(to open IPv4 Properties):
Ensure your network adapter obtains an IP and DNS servers automatically.
Click OK to save settings: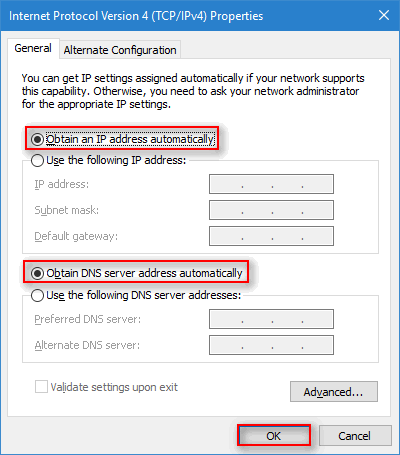 Don't forget to click OK in another window as well!
If all this doesn't fix WiFi Limited issue proceed to the next step.
Solution 8. Manually assign Google DNS 8.8.8.8
Open the network adapter properties again as shown in the previous solution. But now manually assign DNS Servers:
Specify your router's IP address as a primary DNS;
Specify 8.8.8.8 Google DNS as an alternate DNS Server;
Click OK to save settings:
Then it is advisable to launch the command prompt and execute the command:
ipconfig /flushdns
In some cases this solution helps to fix WiFi Limited issue and to remove a yellow triangle with the exclamation mark from the network icon.
Solution 9. Disable Antivirus
The issue may emerge when definite antivirus products are used on computer. In various forum discussions on the Internet users report that Wi-Fi Limited or Limited Connection issue because of Avast, ESET or Bitdefender antivirus products.
Quote 1.
I managed to fix "Limited" error by unchecking Epfw NDIS LightWeight Filter (an ESET SMART SECURITY filter) in ethernet properties.
Quote 2.
I solved "WiFi Limited" by uninstalling AVAST Antivirus.
Quote 3.
I uninstalled Bitdefender, rebooted and then the "Limited" error disappeared. Just go to "Bitdefender Firewall" and select "Disable Block Internet connection sharing".
Solution 10. Uninstall recently installed updates
Uninstall recently installed updates. Later you may try to install them again.
Solution 11. Change bandwidth to 20MHz in Wi-Fi Adapter settings
I found another sollution: go to your Wifi adapter. and if you can set the "width" of the 2.4 and/or 5.2 bandwith from auto to 20 MHz. This fixed my and my wives wifi problems, no dns, no gateway etc.
Solution 12 to fix WiFi "Limited" on Ralink RT3290 WiFi Adapter
Go to Control Panel – Network Configurations.
Right-click your network adapter and select Properties.
Go to Networking tab and click

Configure

button on .
Under the Advanced tab select

Roaming Sensitivity

and change to 1.Advanced.
Click

OK

.