Funday24.ru (smartinf.ru) is a russian browser-hijacker. It is positioned as a search engine but in fact it redirects all search queries to go.mail.ru. As a rule this intrusive website appears in all installed browsers: Chrome, Firefox, Opera, Internet Explorer, etc. It has a lot of domains-redirectors. They all redirect to:
//smartinf.ru/?utm_source=uoua03&utm_content=...
Below you will find the step by step guide and a video guide about how to get rid of funday24.ru in the browser.
Attention! The guide is divided into two parts: automatic removal and manual removal. Unfortunately the automatic method is not 100% successful on practice because the developers of the hijacker are constantly modifying their malware. So, if you can not remove the funday24.ru pop-up using the automatic method, please try to remove it manually.
How to remove funday24.ru automatically
1. Scan system with HijackThis
Download the TrendMicro HihackThis tool.
Run it and press Scan.
Inspect the list thoroughly. Select the items that contain unknown URLs or domain names and press Fix checked:
2. Scan with AdwCleaner
Download and launch the AdwCleaner utility.
Press Scan and wait.
Then press Clean: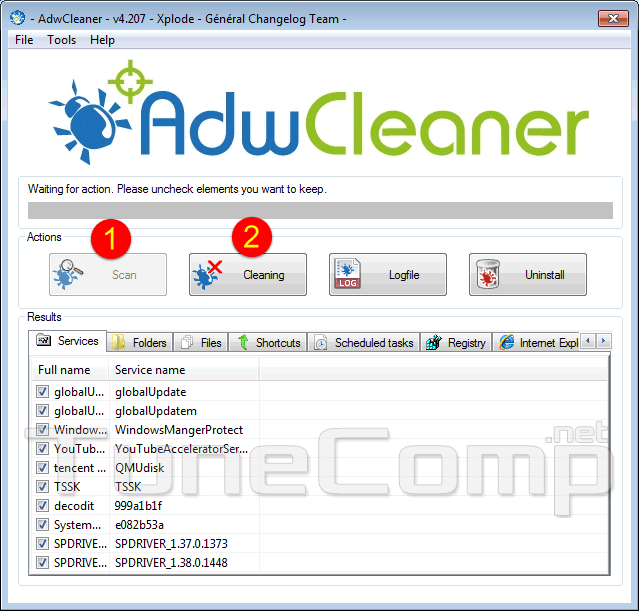 3. Scan with HitmanPro
Download HitmanPro.
Scan the system and remove all found malicious programs: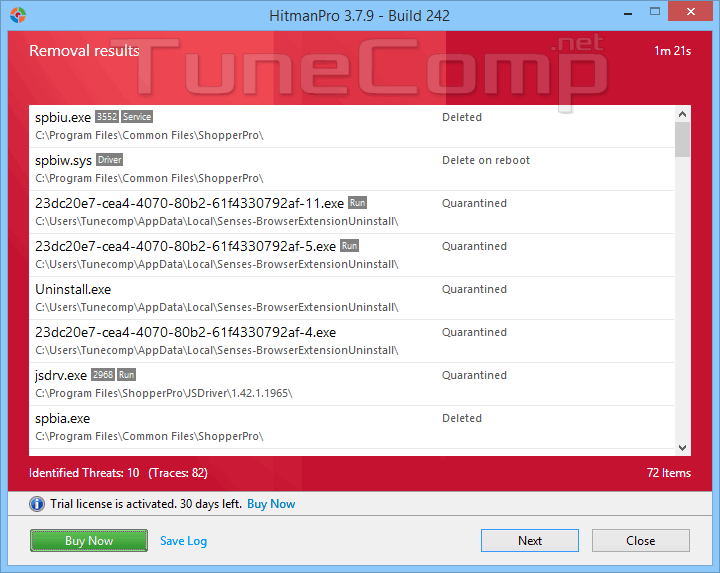 How to remove Funday24.ru manually
1. Find out the site that redirects you to funday24.ru
The best way to do it is to turn off the internet. So you can:
unplug the ethernet cable from the network adapter;

disconnect from the wireless network;
disable the network connection;
After you turned off the Internet restart your computer:
On system startup the browser will launch and you will be able to see which site tries to load initially (before funday24.ru):
Save the name of the site to notepad or elsewhere! Now let us start removing funday24.ru from Windows.
2. Delete harmful task
There is a task that ads the funday24.ru to the registry. Launch the Task scheduler and look through all tasks. Delete all the task executing unknown files: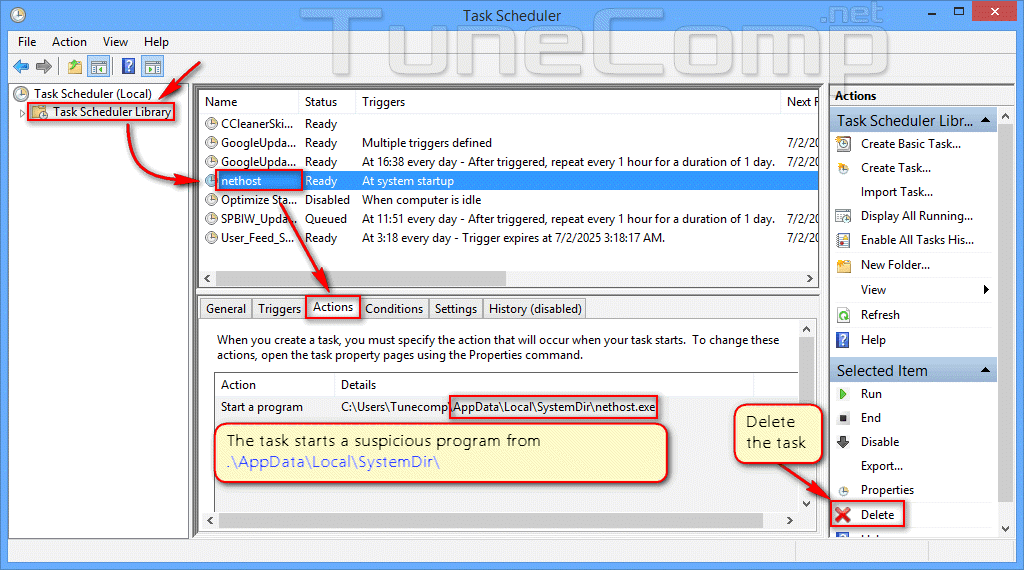 This is also can be done with CCleaner:
3. Inspect the startup
In Windows XP and 7 you can run msconfig:
Go to Startup tab and uncheck the items that contain harmful elements:
In Windows 8 and 10 we recommend to use CCleaner. Go to Tools – Startup – Windows. If you see a suspicious string containing the malware URL select it and press Delete:
4. Clear some folders in user profile
C:\Users\YourName\AppData\Local\
Delete folders with strange names like:
SystemDir
C:\Users\YourName\AppData\Local\temp\
5. Remove funday24.ru from the registry
Press Win+R
Type regedit
Press Enter:
utm_source
utm_content
Click on Computer.
Click on Edit in the menu.
Select Find.
Type utm_source or utm_content
Press Find Next:

and delete all found items:

Search for the name of site-redirector (that you have found out in step 1)
and delete all detected items.
cmd /c start
and delete all found items as well.
6. Remove funday24.ru (smartinf.ru) from Mozilla Firefox
C:\Users\YourName\AppData\Roaming\Mozilla\Firefox\Profiles\1234abcdef.default\
user.js
or something like that with .js extension
Delete the string containing something like:
user_pref(«browser.startup.homepage», «yakubala.ru/?utm_source=startpage0303&utm_content=78ae1a8331acc78c9784a6e399c0404a»);
user_pref(«browser.startup.page», 1);
Video Guide: how to remove Funday24.ru and Smartinf.ru
List of domains redirecting to smartinf.ru
2inf.net
alibabalike.ru
baltysya.ru
bearblack.ru
bejsos.ru
dcura.ru
demansi.ru
ebereg.ru
ecxetus.ru
farsila.ru
fikrov.ru
fmav.ru
foretuned.com
gipide.ru
ikristi.ru
ivasta.ru
izgatsi.ru
koroduk.ru
labine.ru
letani.ru
mandami.ru
manlucky.ru
mvile.ru
netniku.ru
ognime.ru
okoptil.ru
opromar.ru
orbevod.ru
pexmeby.ru
podvizhu.ru
reherse.ru
rhereso.ru
rortix.ru
rsimpe.ru
simsimotkroysia.ru
sumsungapple.ru
thatmi.ru
word-key.ru
yakubala.ru
zhebnina.ru
zostama.ru