This article is about how to get rid of Shopper-Pro adware: uninstall it and wipe all its components. 
What is ShopperPro
ShopperPro is a potentially unwanted program from Goobzo publisher. It is being positioned as a wizard for finding best prices on the Internet but in real it is just an ordinary AdWare.
How did ShopperPro get on computer?
Being a useless adware ShopperPro is distributed as an extra software in a bundle with various freeware programs. If you do not want to infect your PC with such kind of crapware, be sure to refuse from every 'special offer' while installing new programs. Usually you need to press Skip or Cancel to reject the installation of bundled software:
Nevertheless, there exist many deceptive programs that install malware without any warning or permission!
Harm from ShopperPro
1. Can be installed without user's permission.
2. Third-party ads injected into sites prevent from normal reading the pages.
3. Slows down the overall computer performance.
Examples of ads
Third-party banners labelled Broght by ShopperPro and Powered by ShopperPro are overlapping the useful site content:
Ads labelled Ads by ShopperPro built in the Google search results: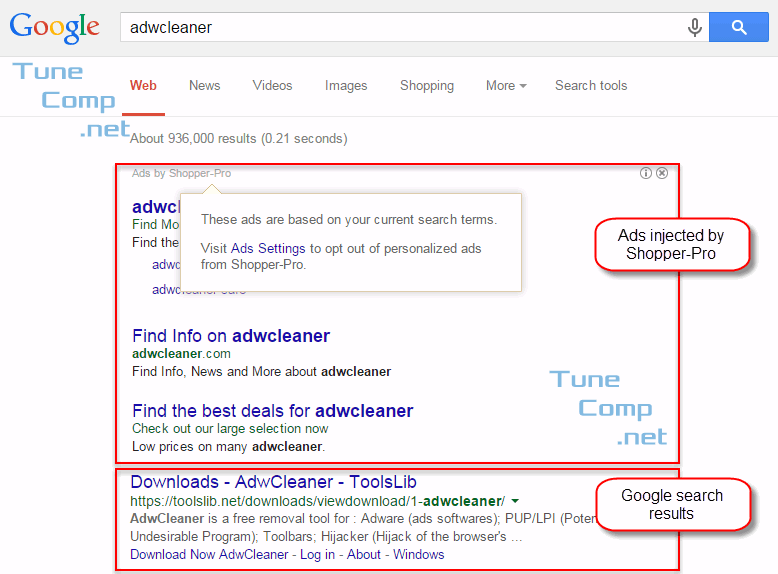 If you click on the link by ShopperPro you will be redirected to search.smartshopping.com.
How to remove Shopper-Pro
Close all web browsers!
Kill processes
Look for the following processes in task manager and kill them:
spbiu.exe
jsdriver.exe
jsdrv.exe
Uninstall Shopper-Pro application
Go to Control Panel – Programs and Features (Win 7,8)
Go to Settings – System – Apps & features (Win10)
Delete paths
Delete the following folders:
C:\Program Files\Common Files\ShopperPro
C:\Program Files\ShopperPro
C:\ProgramData\ShopperPro
C:\Users\Public\Documents\ShopperPro
---
Attention! It is convenient to use CCleaner for the following three steps
Delete startup elements
Delete extensions
Launch all browsers and delete Shopper-Pro extensions is there are such:

By the way. The latest ShopperPro versions are able to inject ads without installing extensions to browsers!
Remove scheduled tasks
Please inspect the list of the scheduled task very carefully. Delete all the tasks launching files from ShopperPro folders.

If you are an experienced PC user we advise you to inspect all files run by tasks via VirusTotal.
Antivirus scan
Scan your system with AdwCleaner and MBAM. Delete all found malware.