What is hihikal.ru
Hihikal.ru is a russian browser hijacker. It is absolutely useless for visitors because it was designed purely to generate revenue to its owner by showing ads. The intrusive web page infects your computer when you download freeware programs and launch dubious executable files. After the infection you browser starts opening by itself when you log in to your Windows account and the website //hihikal.ru pops up in the browser as the start page. Hihikal.ru is not actually a virus. It is just an intrusive website added to startup by malware. Here is our step-by-step guide on how to remove hihikal.ru from the browser, get rid of ads, stop your browser auto launch on startup and delete malware from your PC. 
How to remove Hihikal.ru from Chrome, Firefox or Edge
Follow these steps to get rid of hihikal.ru pop-up redirect in the browser. It also should be mentioned that some time ago we wrote about the similar hijacker.
Scan your system using AdwCleaner and remove all detected adware and PUPs:

Scan your system using Malwarebytes Anti-Malware and remove all found malicious items. This will probably remove hihikal.ru installer:


Install CCleaner.
Remove malicious task that adds //hihikal.ru website to startup.
In CCleaner go to Tools → Startup and check the tab Scheduled Tasks. Delete malicious task. If you are not 100% sure that the entry is harmful you can just "

disable

" it:  Alternatively you can open the

Task Scheduler

(Win+R, Taskschd.msc, Enter). Search for malicious task that can reinstall hijacker. Usually such tasks launch suspicious executable files from

C:\Users\AppData\Local

:
Remove startup entry that launches hihikal.ru redirector.
Go to tab Windows in CCleaner. Search for an antry containing suspicious or unknown website address. Delete such entry. In our case we found:

explorer "//merepen.ru/?utm_source=uoua03&utm_content=f96c35e6dc526b508a5e211bca33a"

Delete all files and folders in 

C:\Users\Your-Name\AppData\Local\Temp

(where 'C' is your system drive): 
Clean your system using CCleaner. Delete browser caches, cookies, temporary files:

How to remove hihikal.ru manually (method 2)
1. Find out the site that redirects you to hihikal.ru
The best way to do it is to turn off the internet. So you can:
unplug the ethernet cable from the network adapter;

disconnect from the wireless network;
disable the network connection;
After you turned off the Internet restart your computer:
On system startup the browser will launch and you will be able to see which site tries to load initially (before hihikal.ru):
2. Remove the URL that redirects to hihikal.ru from the registry
Launch the registry editor (Win+r, regedit, Enter).
Search for the website name (in our case merepen.ru). Click on Computer, press CTRL+F, type the name of the website you've found on the previous step, click Find Next to search:

and delete all entries that contain the URL:

3. Clean temp folder
Go to C:\Users\Your-Name\AppData\Local\Temp. Delete all files and folders.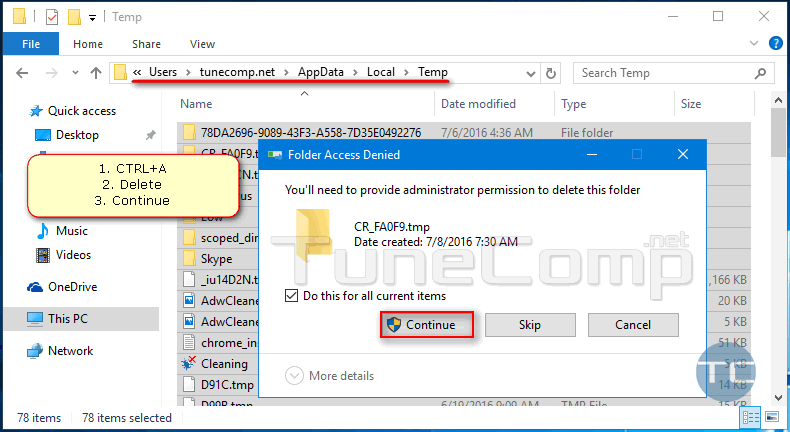 Video Guide: how to remove hihikal.ru