Genieo is an adware application and a browser-hijacker at the same time. It is spread in a bundle with various freeware programs. How to uninstall and completely remove Genieo from Windows?

This is how the Genieo shortcut looks like:
Its target:
C:\Users\tunecomp.net\AppData\Roaming\Genieo\Application\TrayUi\bin\gentray.exe //127.0.0.1:1886/extensions/redirect_to_startpage
Harm from Genieo
1. Genieo generates pop-up ads right on the desktop.

2. Sets search.genieo.com as a default search engine:
How to remove Genieo
Close all browsers and other programs!
End Genieo Processes
C:\Users\tunecomp.net\AppData\Roaming\Genieo\Application\TrayUi\bin\gentray.exe
C:\Users\tunecomp.net\AppData\Roaming\Genieo\Application\Updater\bin\genupdater.exe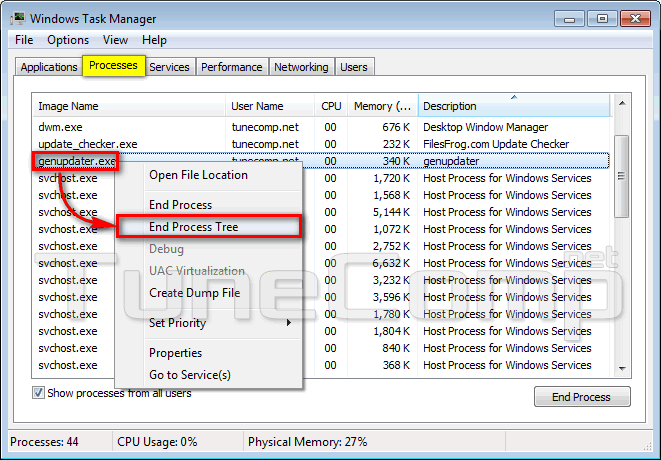 Uninstall Genieo
Look for Genieo application (publisher: Genieo Innovation Ltd) and uninstall it:
Set the checkboxes Remove the application from your default search provider and Reset your default homepage to the original settings and press Yes:
Check the system with AdwCleaner
Remove all found adware: