In this article I will explain what you can do to gain access back to your HDD or SSD disk if you see D: is not accessible. Access is denied in Windows 10. There can actually be any other drive letter instead of D:. Besides the error itself you can notice that your Windows OS is not able even to count the free and used diskspace if open This PC in the Explorer.
You can face the issue if you connect an SSD or HDD from another PC or because someone incorrectly modified access rights in the disk Security options. The error happens when NTFS restrictions of a certain disk or partition do not allow you and even system access it.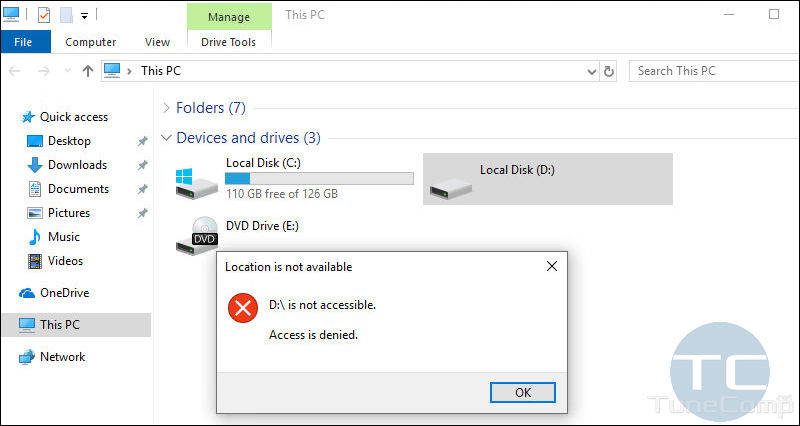 How to Fix "D: is not accessible. Access is denied"
So, let us see what can do to gain access to the disk if we encounter the error, unable to display the current owner and see the empty Security tab (it won't display any user groups). If you are already logged in to the user account with administrative privileges, you should do the following:
Right-click the disk or folder and select Properties.
Go to the Security tab.

Click Advanced.
Now you will see "Unable to display current owner". Click Change
By default Windows adds 4 user groups to the Security tab: Authenticated users, Administrators, Users and System. If you add just Administrators and System you won't be able to normally access the disk and even read its properties such as used & free space even from accounts who are members of Administrators group except the built-in user Administrator.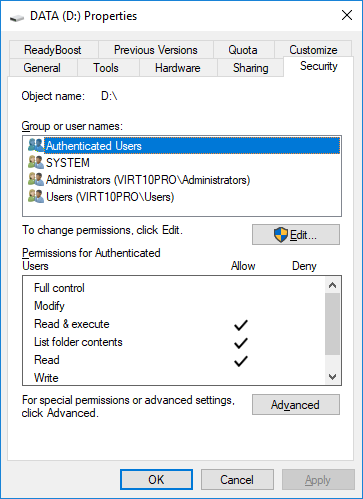 Why You Should Not Add Everyone
There are several forum posts on the Internet suggesting to solve "Access is denied" error by adding "Everyone" to the permissions of your drive. We don't recommend you to do so because in this case really everyone including guests (unauthorized users) will be able to access your drive. In some cases this can give you hard times. So, we advise that you added only those objects (groups and/or users) we mentioned above.
Video Guide on How to Fix "Drive Not Accessible. Access is Denied"
The Wrap Up
We hope, this tutorial helped you get rid of annoying error, your Windows 10 stopped telling you Disk D: is inaccessible, access is denied", you finally gained access to that precious volume on your HDD or SSD drive and can even see the information about its free and used space.
Tell us if the solution worked for you and feel free to ask questions if something is unclear. Good luck!